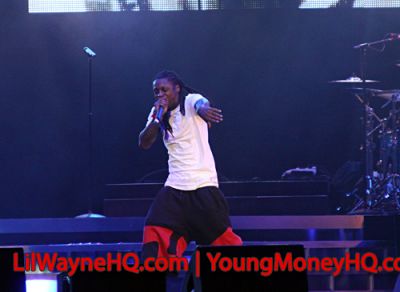 No lie, no exaggeration. The music at the Young Money Presents: The America's Most Wanted Music Festival launch at the Toyota Pavilion Monday night was so well-received, a fan in a wheelchair jumped up to rock to the music.

For the past couple of years, Weezy has had that can-do-no-wrong aura, and while Jeezy and Soulja had the spectators on their feet, when Wayne came out, everyone stood on their chairs — and in some cases, on their armrests — to get the best possible view. From their perches, the fans cheered all night for modern classics such "A Milli" and "Got Money."

Pictures of T.I., Jay-Z, Kanye West and Wayne himself came on a huge screen that hung above the stage before "Swagga Like Us," while a photo of Michael Keaton as Beetlejuice briefly showed during "Mr. Carter." "Flyer than 'Beetlejuice, Beetlejuice, Beetlejuice,' " he rapped.

The rapper, wearing army-fatigue shorts, later warned the fans he was getting ready to play his favorite song, then "Best Rapper Alive" came on. A montage of pictures of all his album and singles played on the screen. Minutes later, a man brought a guitar out to Wayne, and his band (live instrumentation has been a Weezy show staple the past year or so) began to play "Walk This Way."

The opening guitar riffs alone for "Prom Queen" garnered tremendous cheers. Young Money singer Shanell came out and crooned the hook while Wayne's dancers waved pompoms.

Weezy's pa, the Birdman, came out for "We Takin' Over," "Run This City" and the street hit "Always Strapped."

Weezy then announced he was going into the Young Money section of the show and started off with his franchise artist. Drake, whose planned 30-minute set had to be drastically cut down because he's still recovering from a torn ACL, entered the stage via a platform that was lowered from high above and began with "Successful."

"I go by the name of Drake," he told the euphoric crowd, declaring that Young Money was "the realest team in the game." Drake then told the fans he wanted to do something for the women, "Best I Ever Had" followed.

"You the fuckin' best," he and Wayne yelled, pointing to various women in the audience.

After Drake, Wayne introduced more from his artist roster, including Tyga, Lil Twist, Lil Chuckee, Gudda Gudda, Jae Millz, Mack Maine and Nicky Minaj.

Weezy ended the show with his whole family onstage for "Every Girl," as the audience sang along.

After the show, Wayne talked about how he's noticed his fanbase growing and evolving.

"That hit me last tour," he said, explaining how the fans that come to his concerts now are different from when he was a teenager on Cash Money records. "The last tour, when I was doing a song like 'Bling Bling' … they would know what I'm talking about, but they don't now. Then I would say something like 'Lollipop,' and they'd know exactly what I'm talking about. It's like, 'Wow, I have a new wave of fans.' It's amazing."
Shouts to MTV for the review and damn this seemed a crazy night last night!