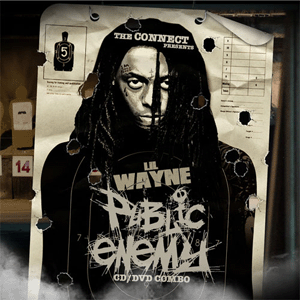 The most dangerous Lil Wayne release is finally here. The Connect somehow got his hands on 4 tracks off of "The Rebirth" and the streets are eating it up. The day of the exclusive is dead since the internet change the game, but The Connect proves the naysayers wrong by digging deep and finding those rare collabo's that the radio hasn't flooded the market with yet. If your local retailer doesn't have it, tell them Mtk's said, they're doing bad business.
A few people have known about this Lil Wayne mixtape for 2 – 3 weeks now including me and it seems that it will be be dropping to the net this week! It is called "Public Enemy" and there is going to be about 4 – 5 exclusives on there including tracks from Rebirth. Check out the tracklist below:
1. Human (World Premier)
2. Fuck Me (World Premier)
3. Another Planet Feat Huey (World Premier)
4. Ready (World Premier)
5. Easy Money Feat Poni (World Premier)
6. Got A Bitch Feat Lil Flip & Smitty (Prod By Tru Beatz) (World Premier)
7. Ground Zero Feat Drake (World Premier)
8. Girls Forever (World Premier)
9. Mr. Gangsta (Remix) Feat Smitty & Ice Berg (Prod By Tru Beatz) (World Premier)
10. Lets Chill Feat Mack Main & Lil Twist
11. We Be Steady Mobbin' Feat Gucci Mane
12. Goin In
13. Politics Feat Gudda Gudda
14. Done It Now Feat T.I
15. Told Y'all
16. Ups And Downs Feat Young Buck
17. After Disaster Feat Juelz Santana
18. The Best Feat Jay-Z, T.I. & Kanye West
19. I'm Going In Feat Young Jeezy & Drake
20. Rollers Feat Juelz Santana
21. Always Strapped (Remix) Feat Young Jeezy, Rick Ross, Birdman
22. Down Feat Jay Sean
23. Man Of The Year Feat Drake
24. Every Girl Feat Drake, Jae Millz & Mack Maine
25. Kobe Bryant
Now, a question to y'all – Do you want me to post the whole mixtape available for download on LilWayneHQ when it comes to us or just the new exclusive songs ❓ Let me know in the comments.