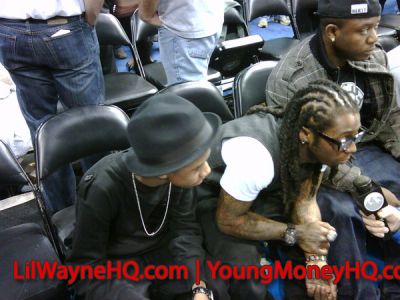 With "Forever," the monster collaboration by Toronto-upstart Drake and rap superstars Kanye West, Lil Wayne and Eminem, leaking onto the net yesterday (August 26) and subsequently causing a frenzy with hip-hop fans, XXLMag.com caught up with producer Boi-1da to get more insight into how the song came together.

According to the T-Dot beatmaker, the track was initially meant to introduce Drake last year. "We made that song maybe last summer," he explained to XXL. "It was originally supposed to be a song that Drake was supposed to come out to, maybe we were trying to make it like a first single. Somehow it got leaked out onto the Internet, a version with him, Wayne and some dude named [Nut da] Kid and everybody was upset about it or whatever, but we knew that it was just a huge record and we had to do it justice."

The song's rebirth started about three months ago when Kanye decided to record a verse. "Originally it was supposed to be Drake and Kanye," he continued, "but the forces that be pulled some strings and we got Eminem and Wayne on it too."

Boi-1da says that Drake wrote the hook and his verse first. Then Kanye penned his bars as a response to Drake. Wayne then recorded his verse after hearing Drizzy and Ye's, and Em heard everyone's rhymes before writing his own.

When asked who he feels spit the best verse, Boi-1da was quick to state his opinion. "Honestly I'm gonna have to be biased and say Drake," he said, "really it's between Drake and Eminem. I've never seen anybody hold up on a song with Eminem, like usually Eminem blows out. Drakes my dude, and he's my favorite rapper, but knowing Eminem I thought he was gonna blow by everybody, but Drake came strong. It's like a toss up. And like that's never been done before, I never head a toss up between Eminem, it's always just Eminem cause he's a monster."

Mack Maine, president of Young Money Records, told MTV news that they are currently trying out R&B singers to redo the chorus. "That's news to me," he said. "I like the hook as it is."

"Forever" hits iTunes tomorrow. It will be included in the soundrack to the LeBron James documentary More Than a Game.
I have heard that Chris Brown, Lloyd, The Dream, Trey Songz and Jeremiah have all layed down a hook for this song, and which ever hook sounds the best will get used on the final version, but these are just rumors!
Also, what a day yesterday ey guys 😉 So many people where on this website after we first leaked the "Forever" song that it crashed.
PS: Check out our "Name Lil Twist's Upcoming Mixtape Contest"!