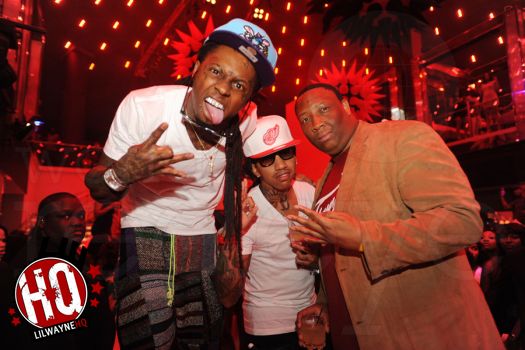 Complex recently chopped it up with David Banner, who revealed a few details on Lil Wayne's forthcoming Tha Carter IV album and his relationship with Wayne. You can read the interview below, and after the jump you can also watch some behind the scenes footage from Game and Weezy's "Red Nation" video shoot (official music video drops tomorrow).
"I worked on Tha Carter IV. Me and Wayne were in the studio together twice. Once in Miami and once in L.A. Where I am with artists now, it's more about the relationship. Before we even do a record I want to talk to you. 'Rubberband Man' will always be a part of T.I.'s family and T.I.'s life. With artists being so disposable, I want to sit down like, 'Man, how you doing?' Wayne just got out of jail. Let me talk to you and see how you doing as a man."

"Most artists who are on the level of Wayne, once they get to that level they try to go and get whatever major producer. He told me, 'David, if you've got what it takes, you're going to always be a part of Tha Carter shit.' I respect that because there's a lot of people who I was a part of their careers and it just didn't happen no more, but I'm not saying no names. With Wayne, it's not like you got a definite spot, but you definitely can come and fight for your spot, and that's all I ever ask for."
"I did about 12 songs for Wayne. One thing I respected about Wayne this time, Wayne didn't allow me to go all over the place. Wayne told me, 'Banner, this is exactly what I'm looking for. I know you want to be creative, I know you want to do this, but right now, for the stuff that I have already done on the album, this is the lane that I need.' And I super-served that. The lane was just bangers. Nothing that you really have to think about. I'm talking straight, in your face bangers."

"I have no idea if it will make the album. You'll probably know before I do. But honestly to me, it doesn't really matter whether it makes it or not. If those Gatorade commercials keep coming, I ain't tripping off no rapper. I get paid more doing advertisements anyway. But I know for a fact he's recorded songs on two or three beats I made. But you know, originally I had six on Tha Carter III. But when it came out, it was one."

On his relationship with Wayne…

"Wayne works a lot so you never know what he's going to pick at the end. I've had to buy tracks back because they will call me the week before it's time to cut like, 'Banner are these tracks open?' I'm calling other people like, 'Yeah man. You know that track I sold you? I'll give you double what you paid for it.' [Laughs.] So now, I do a separate batch for Wayne that I don't even play for anybody else. There's not too many records that are going to do what Wayne does. So having one or two on something of that stature, that's worth holding a couple beats to the side."

"Wayne is recording all the time. People look at the swag, the hair, and the tattoos, but they never talk about his work ethic. While everyone else is in the club trying to take advantage of their stardom or spotlight, Wayne is in the studio, writing, and thinking of ideas. You want to know where Wayne is right now? He's probably recording. If I had to pick what dude is doing, I'd put $50,000 up at just about any time of the day and say he's probably doing something that has to do with a mic."

"The thing that I like about Wayne—probably with the exception of Devin The Dude—Wayne loves music. He wants to hear everything. He wants to hear 80 beats. Not so much because he wants to rap on it, but because he loves music so much. He just stands in front of the speakers. I mean, literally in front of those big ass, loud ass speakers, and put his head in the speakers and just stays there. He turned back and looked at me like, 'I like that.' It was so funny because he walked past me and said, 'That Death Of A Pop Star…amazing.' And he walked out."

Behind the scenes footage from Game's "Red Nation" video shoot featuring Tunechi, and Birdman makes a cameo.