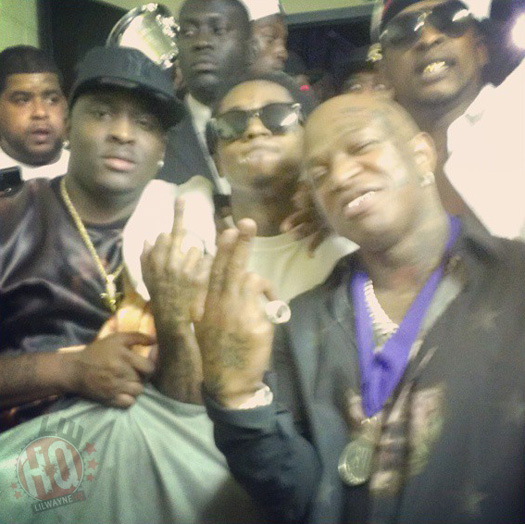 Turk explains in an interview with AllHipHop about why he filed a lawsuit against Birdman and Cash Money Records for over $1 million dollars, as well as his thoughts on what Lil Wayne will be going through right now after he filed his lawsuit last month.
The former Cash Money artist speaks on being promised to get back with Birdman and a Hot Boys reunion while he was incarcerated, chatting to Tunechi recently but not since his lawsuit, why he thinks CMB is successful even though they get sued frequently by people in the music industry, and confirms that he is not suing Baby just because Tune did it.
You can read what Turk said after the jump below!
Why did you decide to file this lawsuit against Cash Money now?
It was the guidance of my counselor. I tried several times to negotiate out a deal or settlement before it even got to this. Me being from the street, being the type of person that I am, being loyal, I never once wanted to file a lawsuit.

But it comes a time where I have to listen to my counselor. My counselor said it was in my best interest to go ahead and file a lawsuit. So that's what we did.

Reading through the lawsuit, it says you hadn't received any royalties since you signed with them.
No.

Not at all?
No, I have not received any royalties. It had always been a type of situation with Cash Money where it was family. When one ate, we all ate. When one went and did certain things, we all did certain things.

But when it came down to business, there are things that we didn't know coming into the game as youngsters. Throughout the years of reading, researching and seeing the numbers are not adding up, it's like, "Oh yeah, something's going on."

Of course, I was incarcerated, so there wasn't too much I could do. My whole plan was to come home, get back with Cash Money, get the Hot Boys reunion going, and get back with the old family.

I'm just being all the way real. When I got out it wasn't what I thought it was. Even with the free "Hot Boy Turk" and "When you get home, we got you." It wasn't none of that. It was just smoke and mirrors.

Now that the news of the lawsuit has come out, have you heard from anyone at Cash Money or Money Mack?
Nah, I'm leaving everything in the hands of my attorney. There's no more talking. Like I said, I tried to resolve this matter before it got to this. So there's really nothing else for me to talk about. It's out of my hands. The only thing I can do is follow the instruction of my attorney.

Wayne's situation is a little bit different from your situation. He's been with Cash Money the whole time. You haven't been officially connected with them for a while. So what are your thoughts on what Wayne is going through at the moment?
It ain't nothing new to me. When we all left Cash Money, there was no other way around making sure Wayne be satisfied and comfortable.

I believe Wayne's a man. He makes his own decisions based on however he feels or whatever he thinks is right. The same way I'm doing it. I wish the best for him.

Have you had the chance to speak to Wayne over the last few months?
I spoke with Wayne, but not since the ordeal with his situation. I've been so focused on me and my family. Going through the things I'm going through in my life, I don't really have the time to focus on anybody else's business.

Over the years there have been a lot of lawsuits, new stories, and rumors dealing with Cash Money's alleged pattern of not paying artists, producers, and other individuals. Why do you think the company has managed to be so successful despite that?
I believe Baby is a hustler. When you're a hustler, you're always going to find a way to stay up. No matter what.

Now, the people that he hustled don't know. When you don't know, you suffer. It's like I could be a bad person, you could be a good person, and you're wondering how I'm getting so far ahead. It's because of the knowledge that I have. Knowledge is power. As long as you've got wisdom of a situation, you will always be able to stay ahead of the game.

At the time, I didn't know. None of us knew. The only thing we saw was the lifestyle. When you're young and you see a lifestyle of the rich and famous and have a chance to be in it – mess with the females, ride in nice cars, and all the stuff that you dream about – especially me coming from the projects, you don't think about the legality of it.

You don't think about the contracts. You don't even think about the future. You live for the day. Baby was not young. He had a lot of wisdom. He knows a lot. You can't take that from him.

What's next for you musically?
Right now, I'm just working. I got a single called "Wodie" featuring Master P. We're about to shoot the video for that real soon. Just pushing my own brand, pushing my own label, and getting this Cash Money situation behind me.

For the record, I don't do anything for a publicity stunt. A lot of people out here are saying, "He filed a lawsuit because of Wayne." My lawsuit has been in play. It was just held off from me being loyal and me not wanting to take my brothers – because I still consider them as brothers – through the court system.

Where I come from, we don't do that. We sit down and talk like men. When you get to the point where you can't talk, you can't do nothing but go the legal way. That's the only way you can do it without somebody getting hurt or getting incarcerated.

It's business at the end of the day. I just hope they respect my cause, the way I respect their cause. I just want the world to understand my take of it.

When I got locked up, I put myself in that position. So it's not an act of revenge because a person didn't pay my attorney fees or all the other crazy s**t that's going out on the web. A lot of people just be talking and don't know better. Those be the ones that get in the same situation like me, then ten years down the line they're going to be going through the same thing.

I want people to learn from the situation, not get bitter. It's a lot of people saying, "F**k Baby." It ain't about all that. It's about what's right. That's all I'm about.