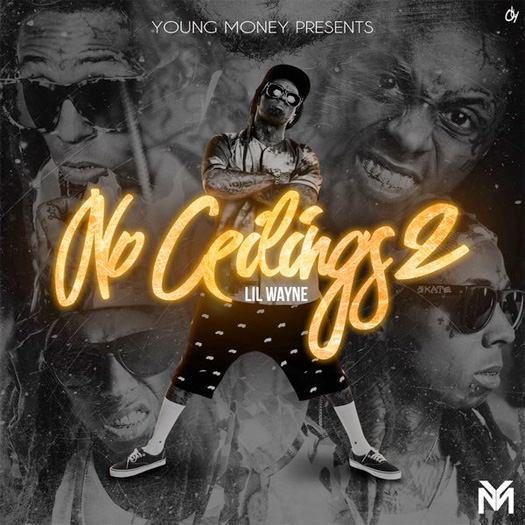 We saw the trailer this morning, and now Lil Wayne has revealed the official tracklisting for his forthcoming mixtape, No Ceilings 2, which will be available to download later today at 8PM EST.
The tape will include 24 songs (remixes and original music) and have features from Curren$y, Future, King Los, Lucci Lou, Mannie Fresh, T@, Turk and Yo Gotti, as well as Young Money's Baby E., Euro, Gudda Gudda, HoodyBaby, Jae Millz, Shanell and Stephanie Acevedo.
You can view the tracklist for No Ceilings 2 after the jump below! Who's excited?
1. Lil Wayne – Fresh (featuring Mannie Fresh)
2. Lil Wayne – Back 2 Back
3. Lil Wayne – My Name Is
4. Lil Wayne – Where Ya At
5. Lil Wayne – Cross Me (featuring Future and Yo Gotti)
6. Lil Wayne – I'm Nice
7. Lil Wayne – Duck (featuring Jae Millz, Gudda Gudda, and Shanell)
8. Lil Wayne – Poppin (featuring Curren$y)
9. Lil Wayne – Jumpman
10. Lil Wayne – Destroyed (featuring Euro)
11. Lil Wayne – Finessin (featuring Baby E.)
12. Lil Wayne – Millyrokk (featuring Lucci Lou and Turk)
13. Lil Wayne – Live From The Gutter (featuring HoodyBaby and T@)
14. Lil Wayne – Big Wings
15. Lil Wayne – Too Young
16. Lil Wayne – Lil' Bitch
17. Lil Wayne – Get Ya Gat (featuring Lucci Lou and HoodyBaby)
18. Lil Wayne – No Reason (featuring King Los)
19. Lil Wayne – Plastic Bag (featuring Jae Millz)
20. Lil Wayne – Hotline Bling
21. Lil Wayne – Crystal Ball (featuring Stephanie Acevedo)
22. Lil Wayne – Diamonds Dancing
23. Lil Wayne – No Days Off
24. Lil Wayne – The Hills