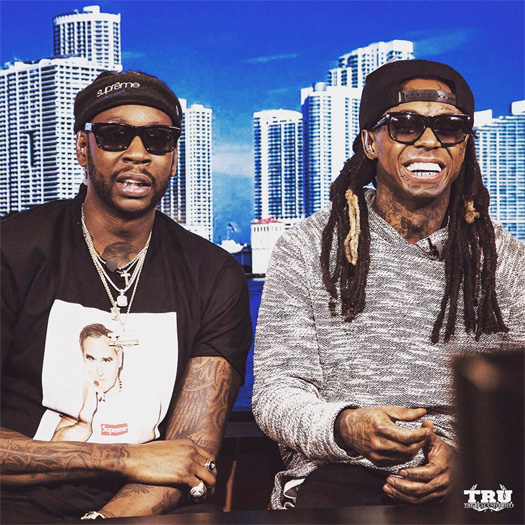 2 weeks ago, 2 Chainz chopped it up with Rolling Stone for an interview, which you can read after the jump below.
Tity Boi discussed recording "Bounce" in 12 hours with Lil Wayne, what their studio session was like, being in competition with each other when they are in the studio, their relationship, and more.
The College Park rapper also spoke on if he was "pissed off" that Kendrick Lamar dropped his Untitled project on the same day as ColleGrove, the artwork for ColleGrove, recording the project as a dedication album for Tunechi, and recalled Tune thanking him for letting him have his cup in the "Duffle Bag Boy" music video!
On "Bounce," you and Lil Wayne really went back and forth in that Run-DMC style, playing off each other…
Yeah, that track was kind of the catapult for starting that project, that was one of the first tracks we recorded with having a purpose to it. We was in Miami, Hit Factory, it probably took about 12 hours to do the record. I don't even know how many bars is on this song, let's just be clear.… Neither one of us writes, so our process of recording music is very similar, yet very different. He has a skate ramp in the booth so he goes skating — I don't know he's skatin' or fuckin' thinking of the verse…. I go in there and do the [chorus]. I come out the booth and this motherfucker goes back in and raps again! My chef, is just like, "Ohhhhhh, whatcha going to do now?" So I had to go back in. This process was probably one of the best rap processes that I've ever been a part of. Straight up.

Was it a linear recording, basically recorded as you wrote it?
It's built just like you heard it, man. He went, I went, he went, I went, I suggested the hook, he went, I went, I put the hook back in, and I left, like stop. He will rap for 20 minutes. At the end of the day, that is Lil Wayne. It just raises the bar for competition, like sharpening up your steel, for both of us.

Did you get that competitive vibe when you were in there with Wayne?
Oh hell yeah, no doubt. You just can't be slumping. This is not a place to come slump around. You gotta bring your A game. This album has very little melodic type vibes. There's rapping on here. You want to hear some rapping you need to get ColleGrove, if you want to hear some rap shit? We made some rap shit. We made some Southern. Rap. Shit.

Were you pissed off that Kendrick dropped Untitled on the same day as Collegrove?
No, [laughs] I wasn't pissed off. I knew Kendrick was coming out the same day. I had the opportunity to change. That's what the game needs. I know what this project is to anyone who listens to it. I'm actually a fan of the boy too.

The album art is very evocative
I thought it was dope to have a picture of me with [Wayne's] tats. If you look at the cover it doesn't say anything but "Parental Advisory." You know I'm one of those people who's still into art and although people don't actually have to buy a CD and open it up, I still enjoy the process of picking out dope art. I could've put up a black cover and wrote, "If You're Reading This, We're at the Club." That Drake shit was brilliant.

The whole project is like a dedication to my dog, contrary to what he's going through or what he has been through, holmes really like the godfather of a lot of styles that's going on. Let's be clear, the boy yelling 'soo-woo,' the boy tatted up his whole body like a biker maybe 10 years ago. I'm rocking with the boy until the wheels fall off. It ain't my business what he's going through. I just know what the people miss, and I know what I miss, I know what the game miss. We wouldn't have a lot of this stuff out here if bruh didn't do what he did for the game.

His entire model of doing four mixtapes a year or more, constantly writing. That is the model now.
Just think, the "Dufflebag Boy" video is '07. The boy done tell me, "Thank you for letting me shoot the video with my cup, they normally tell 'em I can't have my cups in the video." This is a time where they tell you what you can put in and out the video. This is nine or 10 years ago. We've known each other for almost 15 years. Just like honestly bro, it's genuine, it's very organic, we communicate a lot, even when he went down for some time when he went to Rikers, we were in communication with each other. It's not that I'm trying to out-relationship nobody when it comes to Tune, we are what we are to each other. That's like my brother, I speak highly of him. That's just how I am, that's how I'm raised. I'm one of those standup Southern guys, you know.
Photo credit: Joe Moore.