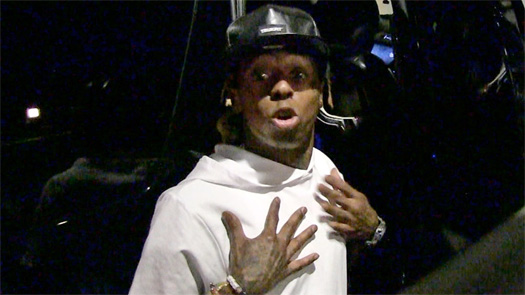 Early this morning, TMZ asked Lil Wayne what his thoughts were on Hillary Clinton referencing his lyrics in her speech on Thursday night while he was leaving Playhouse nightclub in Los Angeles, California after celebrating Mack Maine's birthday.
If you missed her speech, Hillary appeared to reference Tunechi's No Ceilings mixtape and his "Sky Is The Limit" song: "When there are no ceilings, the sky's the limit". This is of course similar to what Tune said on a No Ceilings tape skit: "And understand that there is no ceilings, there's only the sky and the sky is the limit".
Of course, this is a little bit of a reach, but the quote does seem fitting to be what Weezy has rapped in the past. You can watch Clinton say the line in her speech and see Wayne chat to TMZ about it below. Even though he hadn't seen the speech at the time he was leaving the nightclub, it now looks like Mr. Carter has checked it out as he has since gone on Twitter to tweet: "Go Hillary! I hear ya out there"!
Go Hillary! I hear ya out there

— Lil Wayne WEEZY F (@LilTunechi) July 29, 2016