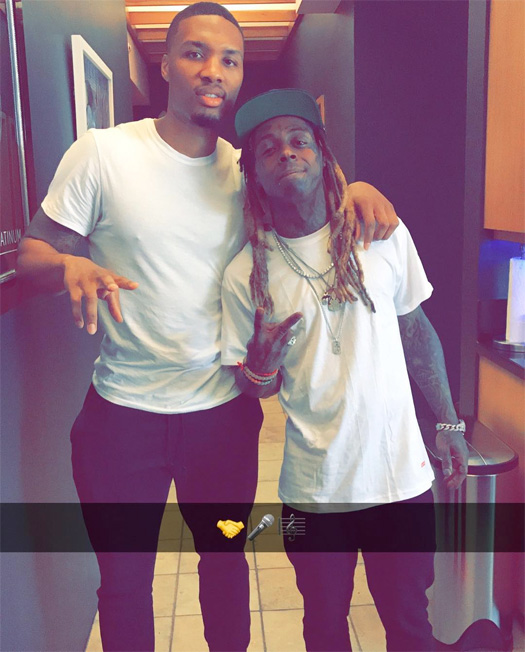 Damian Lillard, who goes by the stage name of Dame D.O.L.L.A. in hip-hop, recently chopped it up with Billboard to promote his new album, Confirmed.
During their interview, the NBA player and rapper talked about Lil Wayne sending him songs to jump on, the biggest way in which Wayne has tested him with music, and more.
You can read everything what Dame said about Weezy after the jump below. If you have not yet heard their "Run It Up" collaboration, click here to do so!
With you doing freestyles on Sway in the Morning, to having features by Lil Wayne and 2 Chainz, to doing shows, at what point in your music career did you feel validated or that your artistry was confirmed?
I think it was after the first album and almost eight months after I released the album. You know, there were people still listening to it on Twitter. People were still talking about it. People were still noticing like hidden tracks, tracks you know that weren't the main tracks on that album. So when that started happening, I was like, "Man, eight months removed from my first album and people are tweeting me that aren't fans of the basketball player, they're tweeting me as fans of my music." Like, once that started happening, and [Lil] Wayne obviously being on the first album — he started sending me tracks of his to get on and to get on his stuff. So those types of things are kind of what made me realize that I've crossed over as a full-blown artist.

Speaking of Wayne, you have him featured on your new album for a second time. In what ways has he tested you as a lyricist or as an artist in the studio?
I think the biggest way that I'd say that he's tested me is that some of the songs that he's sent me aren't beats or types of songs that I would typically make or be on. So if Wayne sends me something, I'm not going to turn it down like, "Nah, send me something else," I'm gonna figure it out. You know, he sent me a few songs where I had to figure it out. It took me some time to figure out what angle I was going to go [with], and how I was going to put the verse together while also trying to hold my own on a track with him. So I think that's how he's forced me to grow, by sending me songs that aren't what I'd typically get on. I thought that was good for me.