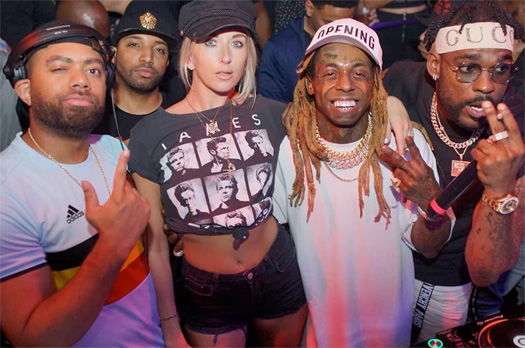 I previously posted up a video on Monday of Lil Wayne at Story Nightclub announcing he had a meeting about the release date of Tha Carter V, and now we can see some more footage from the party.
On June 23rd, Weezy hosted an event in Miami, Florida and during his appearance, he got on stage with his Young Money artists Jay Jones and Euro to perform "I'm Goin' In", "A Milli", "6 Foot, 7 Foot", "Steady Mobbin'", and "No Problem" live.
Tunechi also showed off his dance moves to Drake's "Nice For What" single, which made DJ Stevie J shout: "That boy be doing the Chris Brown, boy" before Tune replied back: "I'm old, I was doing the Bobby Brown". You can check out a clip of all of this after the jump below!
Photo credit: MIA Nights.
Video credit: Ade Mcdaniel, Alex Tames, and John Benjiman Davis.