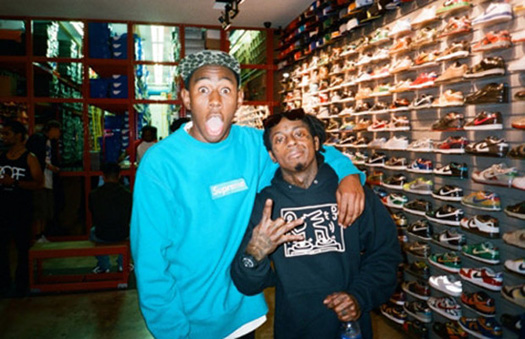 So far this year, Tyler, The Creator has released remixes over Lil Baby and Drake's "Yes Indeed", Kanye West and Kid Cudi's "Kids See Ghosts", Monica's "Knock Knock", Trouble and Drake's "Bring It Back", and Jacquees' "Validation".
Taking to Twitter yesterday, the Odd Future co-founder revealed that all of these freestyles from him this year have been inspired by Lil Wayne and his early Da Drought mixtapes.
You can check out the praise tweet from Tyler below! Click here to also listen to their last collaboration "Droppin' Seeds".
also im practicing in front of yall putting verses on random shit, its fun, im in a pocket. shout out to early wayne drought tapes and p in my mind the prequel tape. very hyped yall like it. some street niggas gave me props for BRONCO, happy that world is aware. enjoy now, holla

— Tyler, The Creator (@tylerthecreator) July 24, 2018
"also im practicing in front of yall putting verses on random shit, its fun, im in a pocket. shout out to early wayne drought tapes and p in my mind the prequel tape. very hyped yall like it. some street niggas gave me props for BRONCO, happy that world is aware. enjoy now, holla"