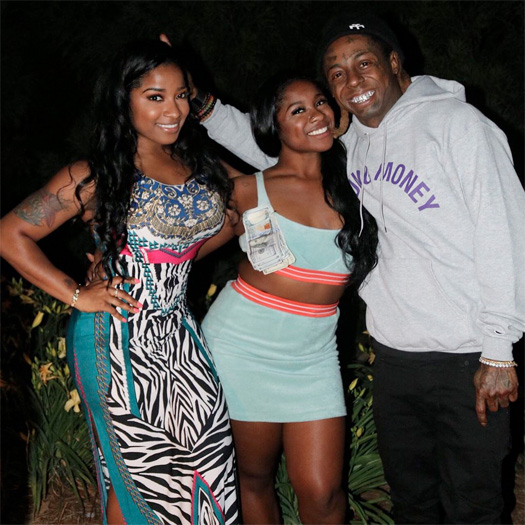 Reginae Carter recently chopped it up with Page Six about the greatest gift her father Lil Wayne has ever given her, having to cancel friends while growing up, and her acting career.
During their interview, Nae Nae said her pops putting "Famous" on his Tha Carter V album made her "whole entire life", as well as also mentioned that her and Wayne can be the new Nat King Cole as he also did music with his daughter.
You can check out everything what Reginae had to say after the jump below, as well as also watch a video of the Page Six hosts talking about their conversation!
On "Famous":
"That was really big because I've been wanting to do a song with my father for so long. Like I would always say: 'Dad, we could be the new Nat King Cole! He did stuff with his daughter!' I've always said that to him, so for him to put 'Famous' on the album and it get such a good outlook like everybody loved it on the Billboard charts, that really just made my whole entire life."

On losing friends at a young age:
"I've had friends that — well, I've had people that come in my life that's been around for so long and I found out that their intentions wasn't right. They stole from me. They lied on me. I've had all of that. At a young age, it's crazy that I've dealt with so much already. But yes, I've dealt with all of it."

On her acting career:
"I'm just excited for people to see my growth. I was on a show not too long ago called 'Growing Up Hip Hop' and I was portrayed – a lot of people thought that I was a spoiled brat and just really like disrespectful to my parents, to my mom. It wasn't a good look. I want people to know this is the real me. Me and my mother are like best friends. I would never disrespect my mom. I want people to see me work for what I really want in my life."
.@reginae_carter1 revealed the greatest gift @LilTunechi ever gave her, and he's officially the coolest dad! Carlos Greer will tell you all about it on #PageSixTV! pic.twitter.com/8KZoTgwOfk

— Page Six TV (@PageSixTV) October 24, 2018