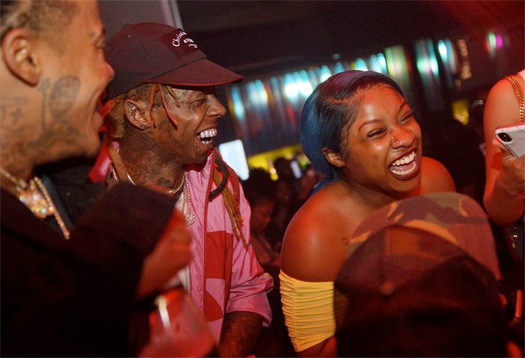 Lasanna "ACE" Harris recently chopped it up with DJ Booth about co-producing Lil Wayne's "Famous" song featuring his daughter Reginae Carter off Tha Carter V and how influential Wayne is in hip-hop.
"Wayne is one of the most influential artists in hip-hop, period, and has birthed so many offspring."
The producer talked about how he worked on the "timeless" track with Sham "Sak Pase" Joseph and Sam Bruno around the same time that they was working on beats for Nicki Minaj and her The Pinkprint album.
A week after they had mastered "Famous" back in 2014, Tunechi and Birdman had their public fall out, which went on to last over 4 years and left him being very disappointed thinking that the record will never see the light of day.
ACE then revealed he got an e-mail of out of blue from Weezy's team a week before the album was due to be released and explained how it feels "to be a part of a historical moment in hip-hop". You can read everything he said below!
I produced "Famous" for Lil Wayne, which features his daughter Reginae Carter. I worked on the record with Sham "Sak Pase" Joseph and Sam Bruno.

I was signed to a production deal with Sham "Sak Pase" Joseph for a few years. Throughout this time, we worked on records for Kid Ink, T.I, and Nicki Minaj. Right before we started working on music for The Pinkprint, in 2014, we had the opportunity to submit music to Lil Wayne.

We sent him a lot of music. He ended up recording to three tracks. We were getting word back from his management team that they were really digging the music and we were sending files to go to mix. I was super hype. Wayne is one of the most influential artists in hip-hop, period, and has birthed so many offspring. His tenure is impeccable and sometimes understated.

About a week after we sent the files for mixing, Birdman and Lil Wayne had their public fallout. Lil Wayne's infamous tweet went viral and Tha Carter V was shelved indefinitely. I was both very disappointed but also very much so detached. The music business can bring out the cynic in you.

At the time, I was producing full-time, so every beat made—and every opportunity for a placement—really counted! I would give forecasts to my wife about upcoming projects so we could budget for the household. To not have these three potential Wayne records see the light of day was a letdown.

Fast forward to 2018. I'm currently A&R'ing for Lecrae (and the rest of the artists at Reach Records) and also still producing. Out of the blue, we get a call from Wayne's team. It turns out Tha Carter V is on the way and "Famous," the record we did four years earlier, is slated to make the final cut.

At first, I wasn't really phased because I know this business and I don't get excited about an artist recording to a track unless I see a contract. The music business is the epitome of "hurry up and wait," and artists of Wayne's stature are known to switch up track listings at the last minute. There is so much pressure, so many decision-makers, and so much at stake to ensure the best body of work.

As an A&R, I totally get it. I'm not jaded anymore. The producers' contribution to the project is often unfortunately at the mercy of the artists and/or their management and label teams. I've been there, done that, and I've learned to just keep your head down 'til you come up. Work as hard as you can, and trust God for the results.

About a week before Tha Carter V was released, we got an email with contract information. At that point, I knew it was legit. It was really cool to be a part of a historical moment in hip-hop, especially in a busy year like 2018 with so many GREAT projects dropping.

I believe the record stuck around and made the final cut because the music and message are timeless. You can't go wrong with a classic chord progression with pianos and a substantive message. No matter how much sound changes, those two things never grow old: message and melody.
Photo credit: MIA Nights.