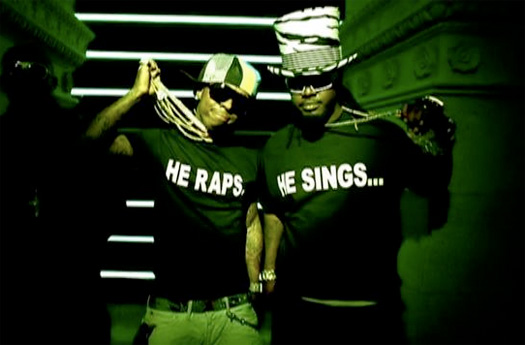 Earlier this year, both T-Pain and Lil Wayne hinted at another joint album together, and now Pain has confirmed a T-Wayne II project will be happening.
While promoting his new album 1UP, which also includes the Wayne-featured song "Goat Talk", T-Pain spoke one on one with Ebro for an interview on Beats 1 radio about the rapper who goes by the name of "T-Wayne", his relationship with Weezy, the T-Wayne II project, and more.
From the 8:05 mark in the conversation below, Pain revealed him and Tunechi will be recording a T-Wayne II collaboration album and that he already has hooks done which he is about to send to Tune. He also spoke about why he put out the first T-Wayne project for free in 2017!
On T-Wayne II:
"We're definitely about to do a T-Wayne 2, no question. I got a ton of hooks lined up already that I'm about to send Wayne and that's just how we do it."

On Lil Wayne's lawsuit against Cash Money Records and releasing T-Wayne:
"Part of that is why I released the T-Wayne project. Because he was going through so much and he wasn't able to put out music, I'm like: 'brah, I'll take it, tell 'em to sue me.' But I just felt like people needed Wayne music."

"They couldn't [sue me], there was nothing… I wasn't making money off it, I put it out for free, what you gon' sue me for? But people need Wayne's music and I was willing to take whatever's gonna come at me for that, and I was like: 'bro, here's some more Wayne music. Take it man, whatever's gonna come out of it, I'll do that.' But that whole thing he was going through with the Carter V and all the Cash Money, I was just like: 'man, this man doesn't deserve that.' I was willing to take whatever I was gonna get for that. That was my contribution to the music industry."