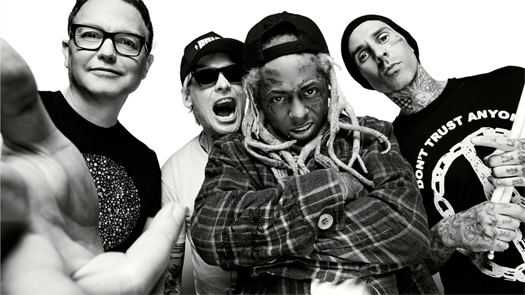 Mark Hoppus and Travis Barker from Blink-182 recently sat down for an appearance on The Kevin & Bean Show to promote their upcoming tour with Lil Wayne.
During their conversation, both Mark and Travis discussed the North American tour that will begin this Thursday (June 27th) in Columbus, Wayne's tattoos, if they will join Wayne on stage during his set, a huge misconception about the tour that they are noticing, and more.
You can watch the full interview between Blink-182 and The Kevin & Bean Show after the jump below! Are you looking forward to the tour?
"He's great. He was super cool, very friendly, professional. He showed up, we knocked out all the stuff that we needed to do – they said we were gonna be done at 10 o'clock at night, we were done in, like, 7:30. The crazy thing is, like, we thought this was such a cool thing, like, we're taking Lil Wayne out on tour and it's gonna be these different shows, it's gonna be hip-hop and there's gonna be punk-rock. And all these people, for some reason, thought that Lil Wayne was going to come out and sing all of our songs because we announced it as a mashup. So this whole thing was, like, 'I mean, I love both artists, but I really would like to see Lil Wayne do his set and you guys do your set.'"

"Yes. That's why I think this tour is gonna make so much sense, because he does, like, this whole… he's a hip-hop artist, but he brings out a rock band and he's very involved in, like, the skate scene and things like that, and the X Games stuff, so there's kind of a good crossover there."