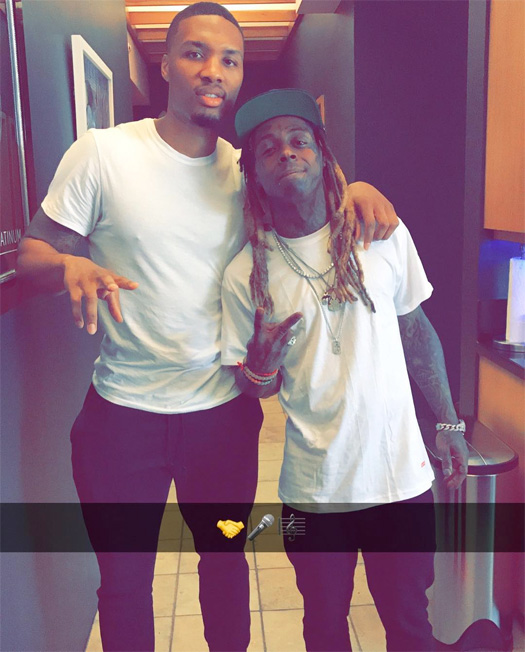 On the day of releasing his Big D.O.L.L.A. album, Damian Lillard aka Dame D.O.L.L.A. chopped it up with Billboard to promote his brand new project.
During their conversation, the rapper/NBA player discussed his relationship with Lil Wayne, when they first met, why he thinks Wayne likes his music, and more.
You can read exactly what Dame had to say about Tunechi, as well as call Tune the GOAT after the jump below. If you missed their latest collaboration, "Sorry", click here to listen to it!
You got Lil Wayne again on this album, marking your third collaboration together. You have "Loyal to My Soil," "Run It Up," and "Sorry," which is the opener. Can you tell me when you first met Wayne?
I met Wayne in 2015. Actually, you know what? I met Wayne in 2013, 2012. But we wasn't cool like that, I just met him a few times in passing. He knew who I was and I knew who he was because he's a huge sports fan. But we became cool in 2015 and that's when we started texting. Chatting on the phone, sending each other music and stuff like that.

To me, Wayne is the GOAT.
He definitely in the GOAT spot, for sure.

Why do you think he likes your music?
I know he said that he really respects that I do my music without trying to come out and be like somebody else. Or do it behind an image and stuff like that. He just appreciates that I am who I am. I rap like the person that I am, and not like some persona, trying to sound like what people want me to sound. And he said he just respected the quality about it, and the realness behind it. To hear him say that, I was like, man. You know, there's people out there that's at the top of the game that's respected that way. It told me, "You can do it this way. This is a respectable, solid way to do it."