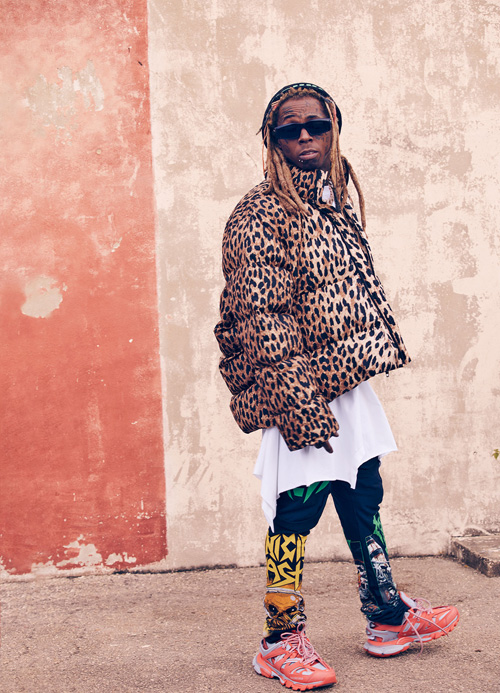 To help promote his brand new Funeral album, Lil Wayne chopped it up with Entertainment Weekly over the phone for an interview.
During their conversation, Weezy revealed he had recorded at least 72 songs for Funeral, explained why he named the album what he did, and confirmed if he died tomorrow this would not be his last project.
Tunechi also discussed his recording process, Sinead O'Connor, hooks, the features on Funeral, female rappers, shared advice for young rappers, and much more. You can read everything what Tune had to say after the jump below!
ENTERTAINMENT WEEKLY: You're known for marathon recording sessions. How do you know when to cut things off and make what you have into an album?
LIL WAYNE: I've never entered the studio and said, "I'm entering the studio and we're recording. This is what we're doing, this is the project we're working on." The only time I do that is for a Carter album. My world stops when we're going in here, recording like, Tha Carter VI. Other than that, just whatever comes out that night came out that night. But then, the Funeral idea came along, and just the whole situation of the times, of me as an artist and my career, it made me go into the studio with, "No, I'm going in here with the Funeral on my mind." Whether I banged out a whole album that night, or not, [Young Money president] Mack [Maine] knows that it was all for Funeral, so it's nothing but a whole collage of things for him to pick at the end of the day.

How many songs you estimate you recorded for this album? And what's the process of whittling them down?
The last time I looked at…my little list of the songs we recorded, it said 72 files. That lets you know how it works. Mack's ear is to the world. Mine isn't. Mine is to myself and my music, my world. And so Mack knows what everyone is listening to and likes, so he comes and listens to these songs because he's the one who will let me know like "They gon' love this, they gon' love that." So we hopefully end up with the best songs out of that whole hundred thousand of them I recorded. It's fun.

I really like "Ball Hard" off the record. It also has a Sinéad O'Connor shout-out. Are you a fan of hers or was that for the rhyme?
That was due to me being a fan because I used to watch a channel when I was young called The Box [that] would have videos to the side of the screen with a number by them. You can call the phone number and just order that video and it'll come on whenever it comes on, you had no control over what video came next. So, the Sinéad O'Connor video [for "Nothing Compares 2 U"] came on a whole lot, and she also became popular just from being the bald head artist. [Recording "Ball Hard"] I was like, "These kids don't know no damn Sinéad O'Connor." But then I thought about the fact that it takes two seconds to say, "Hey, Siri, who is Sinéad O'Connor?"

Listening to the song "Mama Mia," when it started I was like, I do not know how the hell Wayne's going to rap over this beat. Do you run toward challenges like that?
Yeah I do. I love when I get a beat and as soon as it comes on I can't all of a sudden get some words in my head. There's a beat that I got recently that was on an off bar meaning it wasn't going the way every natural song just goes: four bars and four bars. It was barring crazy. So that beat became a challenge as well. It makes you find different flows.

Do you always know whose beat you're rapping over?
When [Young Money Records Head of A&R] Josh [Berkman] sends beats, sometimes he sends the whole batch. A lot of producers have their own tag on the beginning of their beats now, and he may send us a batch of beats [where] some of the beats don't have a tag on there. So I may have killed your beat and not even known who you are; that happens a lot.

With "Dreams," you talk about the nightmare of being broke. Are you at a place where you're thinking about prioritizing entrepreneurship over music like a lot of your peers, or is music still very fulfilling to you?
Oh music is very fulfilling [laughs]. Music is still my bloodflow. That [song] right there was just perfect. When I sang that hook I was like "Okay I got it." You know me, I'm a subject guy. You give me a subject, thank god I'm very creative with my words, and I have a wonderful personality, so I can stick to that subject real well and make something out of it. I've always been that guy. When Baby and them would give the Hot Boys a subject or title and say, "Hey, I want this song to be about Tuesdays and Thursdays" — we had a song called "Tuesday & Thursday," truthfully — I would always [stick to the subject]. That's what helped me a lot with this, because I was in a group. It was like being in school. You'd want to be the guy that turns in the best paper, and so I would always try to be the guy who'd stick to the subject the most in my verse because I knew everybody else is about to get on this song and still try to find a way to talk about something they really want to talk about.

Sticking to subjects, why is the album called Funeral? How'd you come up with the concept?
I thought everyone would understand. I'm noticing that I keep getting asked like "why is this Funeral?" I was like, "Nah, I thought y'all knew my mixtapes, my albums, they all have their little categories. You got the Da Droughts, you got The Prefix, The Suffix, you got Sorry 4 The Wait 1, 2, 3, 4, you got Tha Carter I, II, III, IV, V. So you have Rebirth, and now you have Funeral. Just plain and simple, nothing else. There's no backstory. Everyone that asks, I'm like "Sorry I don't have some long drawn-out story about the name." It's just Rebirth, Funeral, and maybe the next one would be Reincarnation, I don't know.

You've got your fans shook. Everyone is like "Funeral? Is this his goodbye to rap?"
A guy asked me [that] question. He was like, "Does this mean this is your last album?" I was like, "Hell no, man." I wouldn't hope for this, [but] if my real funeral was tomorrow, it's still not my last album. Just so you know.

Tell me about the features on the album.
I really went to Mack and I was just like "Who should we have on here?" And he would throw names out, and I didn't even know who he was talking about because I don't listen to nothing else. Sometimes I came at him though. At my skate park, I got a billion TVs in there, and one of the TVs stays on Revolt, and so sometimes I actually get to pay attention to the new music that's out. If there was a video that catch my eye during this whole process of the album I may have called Mack once or twice and said, "You know what, let me get such and such on the album." And I did it just to make him be like "How the f— you know such and such?" And so that's how a lot of people ended up on the album.

You've said before that sometimes you have trouble with hooks. Do hooks come last, and is that something that features help with?
Much help. [Laughs] Yeah, much help. I'm not a hook-er man. I just go at that motherf—er. You gotta remind me that "Man Tune, those are 12 bars." You gotta remind me to stop and make it a hook. So yeah, I still have, not a hard time, but a good time with my hooks. On whether they come first or last, it just depends on the song and the beat truthfully. It's never a process, it's never a procedure or nothing. It always depends on the situation. I just tell them to put the beat on, and I walk in the booth and just start killing it, and we gotta figure out a hook after, that can happen. Or you get sent the beat with a hook already on there, just a reference.

2020 was a huge year for female rappers. Are there any new ones that you like or would want to work with?
There's a couple, and I sent those artists songs from this album. They didn't do them, so nope. I don't have no female artists out there that I like other than Nicki Minaj, bye. Not anybody else out there doing it other than the old-school female artists. I don't have it for no one else right now other than that.

When you came out you were a teenager, which was much more of an anomaly then. But teen rappers are more common now. What advice do you have for those younger rappers?
Stay with it. I mean at eleven, when I put my name on a contract, I wasn't being told what I was doing, and I still am doing it because I got stuck in the machine too quick…. Don't think the popularity, the clout, things [aren't] going to pass you by because it will. So some advice I would give them is hold your head up and do it, because it should only get better, you can only get better if you stick to what you're doing. Even if it's the worst sh– you're doing.
Picture credit: Ramona Rosales.