Da Playground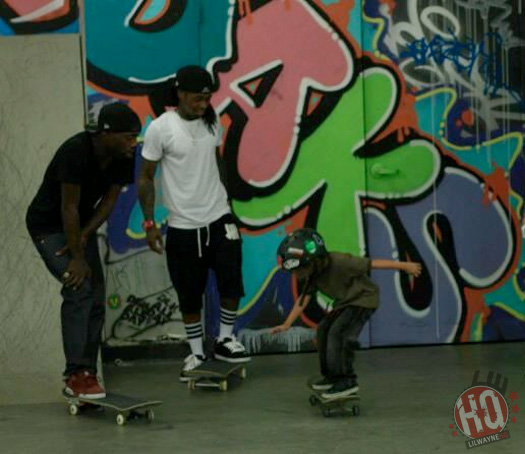 In October, 2011, Lil Wayne took part in a skateboarding session with Stevie Williams and 4-year-old Jacob Christopher at Da Playground skate park in Atlanta, Georgia. You can view more information about the clothes and accessories Weezy was wearing below: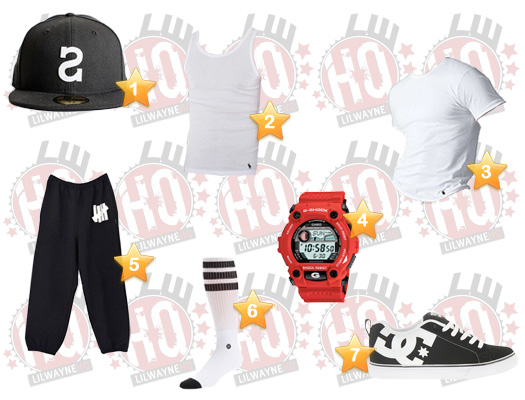 Where to find the items:
1. Black "Big S" Society Fitted Hat
Brand: 59fifty
Price: $20.00
Purchase: Sold Out
Similar: People's Choice Snapback
2. White Polo Tank Top x3
Brand: Ralph Lauren
Price: $38.50
Purchase: Ralph Lauren
3. White Polo Crew-Neck T-Shirt x3
Brand: Ralph Lauren
Price: $38.00
Purchase: Dillards
4. Red G-Shock "Rescue Concept" 7900 Watch
Brand: Casio
Price: $77.00
Purchase: Amazon
5. Black 5 Strike Fleece Sweatpants
Brand: Undefeated
Price: $49.00
Purchase: Wish
Note: Lil Wayne cut the sweatpants into shorts.
6. Boneless High Socks
Brand: Stance
Price: $12.00
Purchase: Stance
7. Black & White Court Vulc Sneakers
Brand: DC Shoes
Price: $35.95
Purchase: The House