Fantasy Factory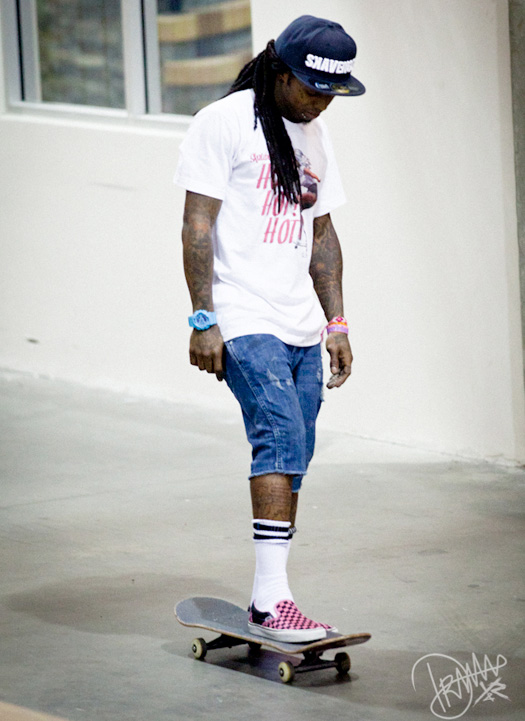 In September, 2011, Lil Wayne took part in a skateboarding session with Rob Dyrdek and Drama from Young & Reckless at the Fantasy Factory in Los Angeles, California. You can view more information about the clothes and accessories Weezy was wearing below: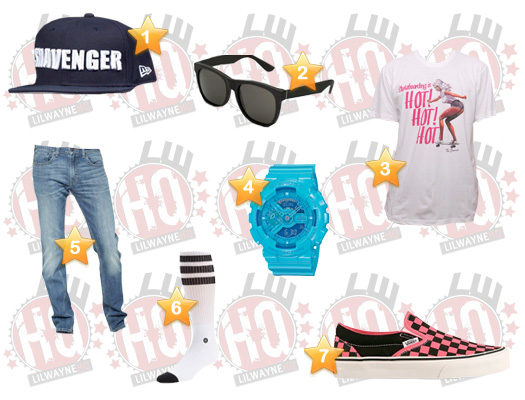 Where to find the items:
1. Navy Skavenger Fitted Hat
Brand: 59fifty
Price: $34.99
Purchase: Skavenger
2. Matte Black Sunglasses
Brand: Super
Price: $126.00
Purchase: Eye Goodies
3. White "Hot Hot Hot" T-Shirt
Brand: The Berrics
Price: $19.99
Purchase: Kickz
4. Blue G-Shock Hyper GA-110B-2JF Watch
Brand: Casio
Price: $469.99
Purchase: eBay
5. Blue 511 Jeans
Brand: Levi's
Price: $39.90
Purchase: Levi's
Notes: Lil Wayne cut the jeans into shorts.
6. Boneless High Socks
Brand: Stance
Price: $12.00
Purchase: Stance
7. Black & Fandango Pink Checkered Classic Slip On Shoes
Brand: Vans
Price: $45.95
Purchase: eBay