Midtown Skate Park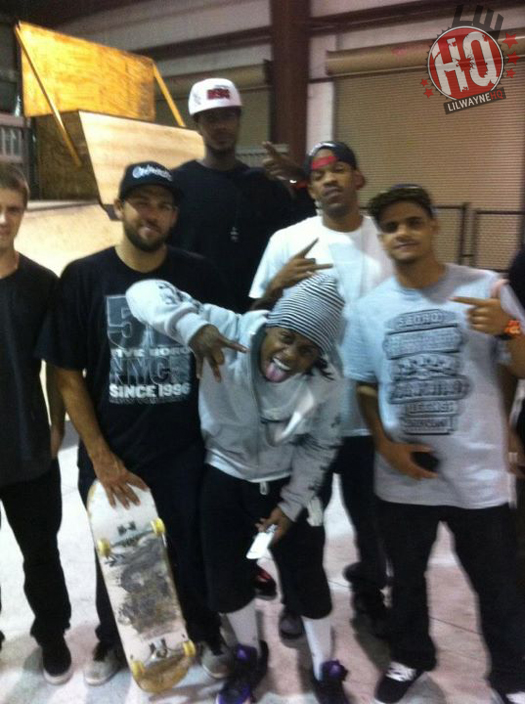 In November, 2011, Lil Wayne took part in a skateboarding session at Midtown skate park in Orlando, Florida. You can view more information about the clothes and accessories Weezy was wearing below: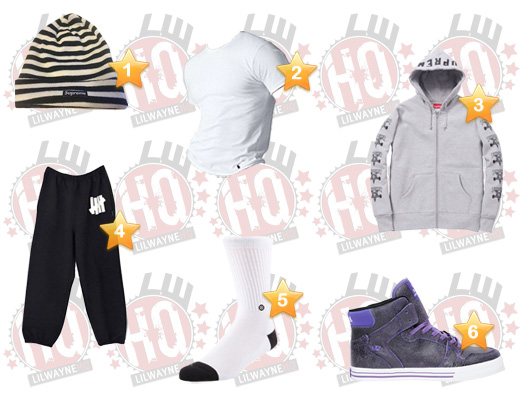 Where to find the items:
1. Black & White Striped Beanie
Brand: Supreme
Price: $54.99
Purchase: eBay
2. White Polo Crew-Neck T-Shirt x3
Brand: Ralph Lauren
Price: $38.00
Purchase: Dillards
3. Grey Zip-Up Jacket
Brand: Thrasher x Supreme
Price: $38.00
Purchase: Sold Out!
4. Black 5 Strike Fleece Sweatpants
Brand: Undefeated
Price: $49.00
Purchase: Wish
Notes: Lil Wayne cut the sweatpants into shorts.
5. Prime High Socks
Brand: Stance
Price: $10.00
Purchase: Stance
6. Black & Purple Stevie Williams Cracked Leather Vaider Sneakers
Brand: SUPRA
Price: $61.74
Purchase: eBay