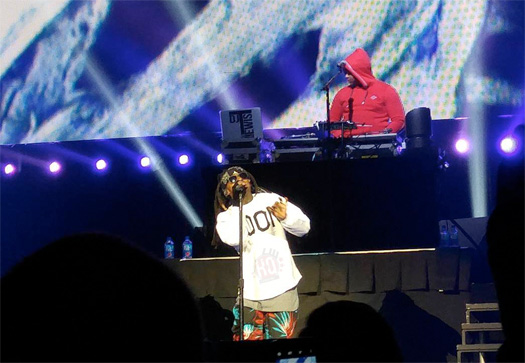 On March 1st, Lil Wayne performed live at the Denny Sanford PREMIER Center in Sioux Falls, South Dakota for a stop on his "The Dedication Tour".
You can watch most of Tune's set in the clips below that show him performing "Mr. Carter", "Coco", "I'm Goin' In", "Blunt Blowin'", "6 Foot, 7 Foot", "Rich As Fuck", "Believe Me", "I'm Me", "She Will", "London Roads", "Nightmares Of The Bottom", "Every Girl" with Mack Maine, "Go DJ", "Hustler Musik", "Leather So Soft", "Right Above It", "Mrs. Officer", "Lollipop", "Got Money", "Rollin'", "Jumpman", "Wasted", "Pussy, Money, Weed", "Where Ya At", "Ride For My Niggas", "One Time" with Lil Twist, "I Don't Like The Look Of It" with Gudda Gudda, "Dick Pleaser" with Jae Millz, "Drop The World", "Mirror", "A Milli", "John", "Truffle Butter", and "Steady Mobbin'" live.
Weezy will next be performing live on his "The Dedication Tour" tonight (March 6th) at the Pinnacle Bank Arena in Lincoln, Nebraska, which is also the very last stop of the tour!