LilWayneHQ App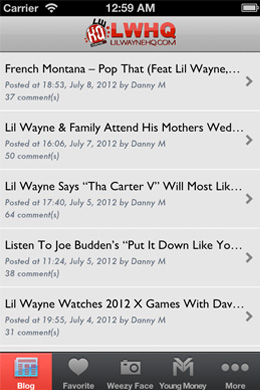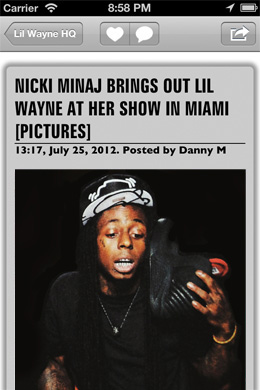 The LilWayneHQ.com app has finally arrived and it is available for iPhone, iPod and iPad users to download onto their Apple device. It is free and can be found in the App Store under the name "LWHQ". This app will keep you up to date with the latest news, music, videos, photos, interviews and plenty more information that you could need on Lil Wayne.
You can also choose to receive 'Push Notifications' on your Apple device, which means that when an update is posted on the blog, you will be notified immediately so that you are never the last to hear the latest Weezy news! To do this, just click on 'Allow' when prompted on the initial start-up.
Click here to download the Lil Wayne HQ app from the Apple Store!
A big thanks goes to Clancy Wist for developing the app for us. If you wish to contact Clancy for any programming work, you can email him here or follow him on Twitter here.
If you come across bugs, problems, or you have any questions about the LilWayneHQ app then please contact me here.