Most people are not aware of this, but Lil Wayne has done plenty of good deeds in his life to help out others. You can view which kind acts Weezy F Baby has done throughout his career below!
If I am missing any of Wayne's good deeds on this page, or you have your own personal story about Tunechi that you want the world to know about, please send me an e-mail here.
Supports KRS-One's "Stop The Violence Movement"
In 2007, KRS-One re-launched a campaign called "Stop The Violence Movement", which first launched in 1989. The campaign was started to try and lower violence by getting hip-hop artists to speak up and raise awareness to listeners.
Other rappers other than KRS-One who support "Stop The Violence Movement" include Lil Wayne, 50 Cent, Ludacris, Rick Ross, Chingy, Cassidy, and Immortal Technique. You can watch footage of Weezy recording his public service announcement messages for the campaign in the clips above and below!
Helps Rebuild A Park In New Orleans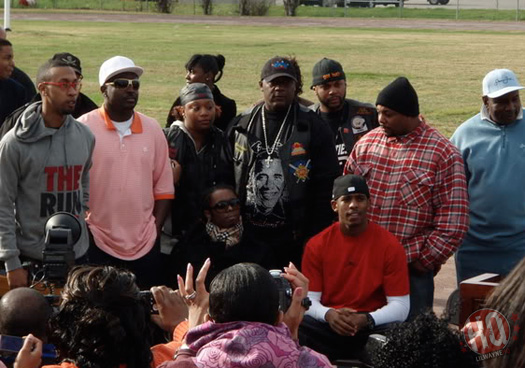 After the Hurricane Katrina disaster in 2005, Lil Wayne helped rebuild a park that was damaged in New Orleans, Louisiana by donating $200,000. The reasons behind this donation are that Weezy used to play at the park when he was a kid growing up and he hoped it would inspire other music artists to help out with donations.
In 2012, Wayne went back to this park and shot a music video for his collaboration with T.I. on a song called "Ball".
Involved In The "We Are The World" Remake
Lil Wayne recorded vocals for the "We Are The World 25 For Haiti" charity single, which was released to benefit the people of Haiti after the earthquake that struck in 2010 leaving over 300,000 people dead and over 1 million homeless.
The charity single, which was produced by Quincy Jones and Lionel Richie, was a remake of the 1985 "We Are The World" song and was released on February 12th, 2010. A music video for the single that you can watch above was also released to promote the track.
Other music artists on "We Are The World 25 For Haiti" include Kanye West, Miley Cyrus, Barbra Streisand, Pink, Celine Dion, Justin Bieber, Enrique Iglesias, and about 40 more. For the single, Weezy recorded Bob Dylan's original vocals from "We Are The World" and after performing the part, he joked about it in an interview:
"I don't know how to sing… I was like: 'What am I doing here? You guys are real good comedians.' After I did Bob Dylan's part, it kind of hit me that I guess this is way more important than I could ever imagine."
Buys Wheelchair For A Fan's Disabled Mother
At the end of 2010, Lil Wayne gifted the mother of Ronda Austin, who is called Evelyn Austin, with a Quantum 6000 wheelchair. Weezy got to know Ronda through numerous letters that she had sent him while he was locked up behind bars in Rikers Island.
In these letters, Ronda wrote to Wayne explaining how much of a fan she was, as well as writing about her family. Tune then rang her up on the phone and mentioned that he will take care of a problem she and her father were having with purchasing a wheelchair for Evelyn.
This good deed from Tunechi has allowed Evelyn to get out the house for the first time in years. Watch Ronda Austin and her family tell the story in the clip above!
Gives Out Turkeys Every Year For Thanksgiving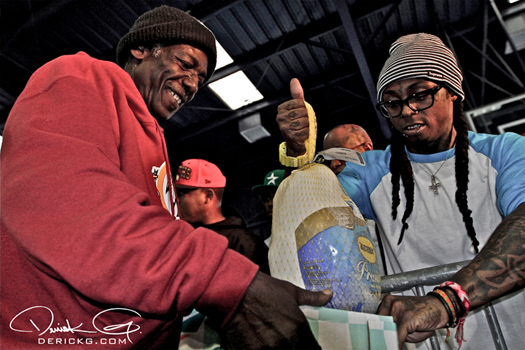 Every year for Thanksgiving Day, Lil Wayne and his Cash Money Records family hold a turkey giveaway in their hometown New Orleans, Louisiana. Weezy and the CMB crew give out around 1,000 turkeys to families from their city, so that they can enjoy the holiday.
Click here to view some footage and photos from Cash Money's 17th annual turkey giveaway in 2011!
Opens Up TRUKSTOP Skate Park In New Orleans
On September 26th, 2012, Lil Wayne opened up his TRUKSTOP skate park in the Lower 9th Ward Village of New Orleans, Louisiana that he built along with Mountain Dew. Weezy decided to build this skate park where he did, because it was one of the worst places hit by Hurricane Katrina back in 2005.
Watch Wayne talk about why he opened up the TRUKSTOP skate park for the kids of New Orleans above!
"Tie My Hands" Saved A Soldier's Life

A soldier named Lander Chappell was clearing a road of improvised explosive devices in Afghanistan when he accidentally stood on one that went off. He had lost his leg and he was losing a lot of blood, as well as drifting in and out of consciousness.
One of Lander's solider friends kept talking to him while they waited for doctors to arrive and asked him to sing his favorite song. Chappell then sang Lil Wayne's "Tie My Hands" song featuring Robin Thicke until help came.
To this day, Lander Chappell believes that both the "Tie My Hands" track and his solder friend saved his life: "Would like to thank Lil Wayne for making Tie My Hands. It kept me alive when I stepped on an IED in Afghanistan. That song is inspiration."
Lander's leg has now been fitted with a prosthesis. You can read more about this interesting story here!
Held Benefit Show In Arizona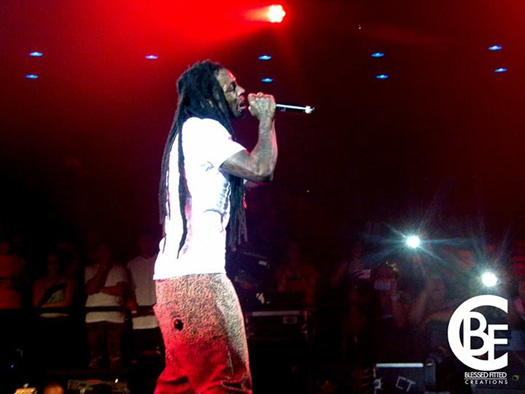 Lil Wayne performed live at a benefit concert on September 3rd, 2013 in Phoenix, Arizona to support the Carter Fund. All of the proceeds from the show went towards the Carter Fund charity, which is an organization that holds after-school programs for the youth in the United States of America.
Click here to check out some footage and pictures of Weezy performing at the charity concert!
Supports The Motivational Edge's "Indiegogo" Campaign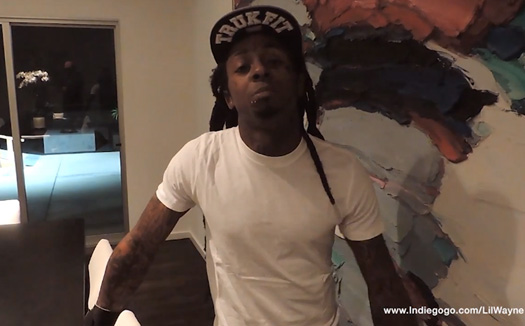 The Motivational Edge teamed up with Lil Wayne to launch a campaign called "Indiegogo" in October, 2013. The campaign offers after-school programs to the youth that tries to motivate them in life with self-confidence and to do well in education.
"Indiegogo" is currently trying to reach a goal of $200,000 to help spread their after-school programs across the United States of America. Weezy has contributed $30,000 to the campaign.
You can view more details about The Motivational Edge and what they are trying to accomplish here!
Sends A Boy From Mott Hall Bridges Academy A Gift & Message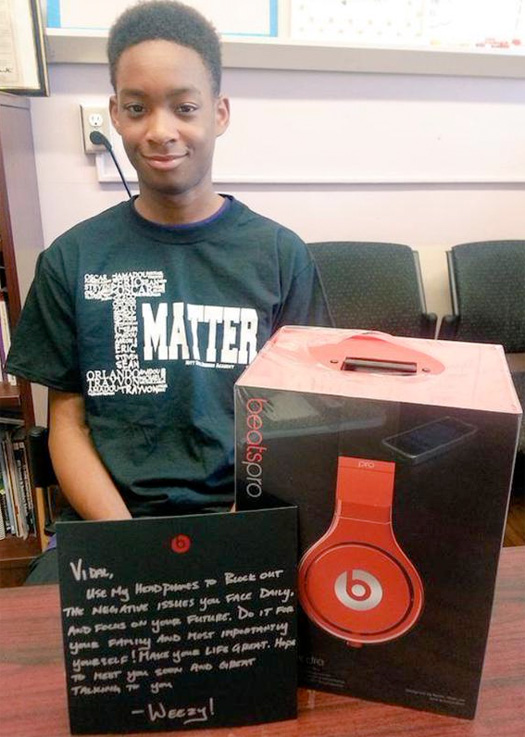 Lil Wayne sent a boy named Vidal from Mott Hall Bridges Academy in Brooklyn, New York a pair of his Beats By Dre Pro headphones with a nice encouraging message telling him to stay focused and block out the distractions.
Gives Back To Haiti For The Holidays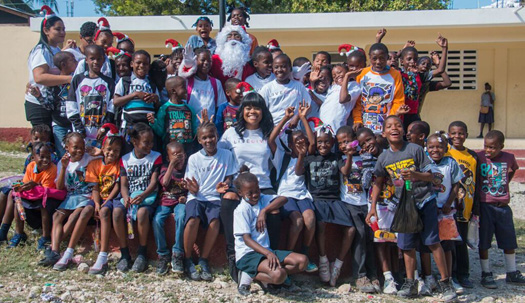 On December 18th, 2015, Lil Wayne teamed up with Karen Civil and her Live Civil brand for a Christmas Giveaway to help the students of Haiti have a happier holiday season by gifting over 500 students with an outfit from his TRUKFIT clothing line.
Click here to read more about this Christmas Giveaway and what Weezy said about giving back to Haiti!