Dolce Ultra Lounge
On May 28th, 2011, Lil Wayne attended and partied it up at Dolce Ultra Lounge in Miami, Florida. You can view more information about the clothes and accessories Weezy was wearing below: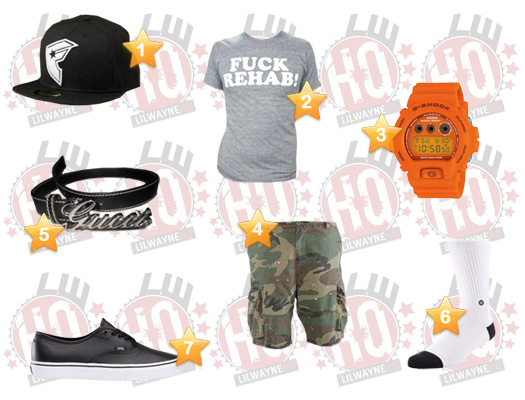 Where to find the items:
1. Black Famous Stars & Straps x Rebel8 Fitted Hat
Brand: 59fifty
Price: $39.95
Purchase: eBay
2. Grey "Fuck Rehab!" T-Shirt
Brand: Perez Hilton
Price: $19.99
Purchase: Sold Out!
Similar: Black
3. Orange G-Shock 6900 Watch
Brand: Casio
Price: $279.00
Purchase: eBay
4. Cargo Fatigue Shorts
Brand: Dirt Label
Price: $59.00
Purchase: Dirt Label
5. Black Leather "Gucci" Script Belt
Brand: Gucci
Price: $250.00
Purchase: List 4 All
6. Prime High Socks
Brand: Stance
Price: $10.00
Purchase: Swell
7. Black Italian Leather Authentic Shoes
Brand: Vans
Price: $65.00
Purchase: Vans
Notes: Lil Wayne swapped the black laces with blue laces.
Photo credit: All The Parties