Wheatland Concert
On September 3rd, 2011, Lil Wayne performed live at the Sleep Train Amphitheater in Wheatland, California. You can view more information about the clothes and accessories Weezy was wearing below: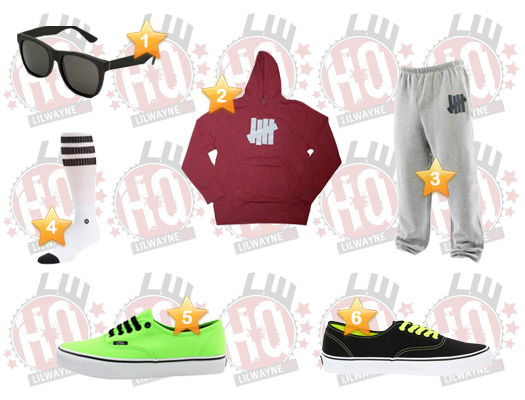 Where to find the items:
1. Matte Black Sunglasses
Brand: Super
Price: $126.00
Purchase: Eye Goodies
2. Burgundy 5 Strikes Fleece Hoodie
Brand: Undefeated
Price: $54.00
Purchase: Sneaker Junkies
3. Grey 5 Strike Fleece Sweatpants
Brand: Undefeated
Price: $40.00
Purchase: Kickz
Notes: Lil Wayne cut the sweatpants into shorts.
4. Boneless High Socks
Brand: Stance
Price: $12.00
Purchase: Stance
5. Lime Green Authentic Shoes
Brand: Vans
Price: $29.99
Purchase: Journeys
6. Black & Yellow Neon Pop Authentic Shoes
Brand: Vans
Price: $33.95
Purchase: Industrial Rideshop
Photo credit: Encore Images