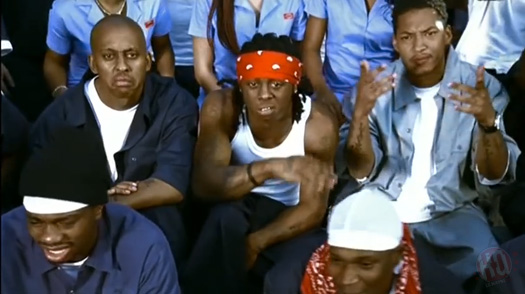 This Gillie Da Kid and Lil Wayne beef all started when Gillie decided to leave Cash Money Records after a disagreement over money with the founders Birdman and Ronald "Slim" Williams in 2003. Wayne then decided to diss Gillie on a song called "Problem Solver" off his joint mixtape with Baby, The Carter #2 (Like Father, Like Son), which dropped in 2006.
"Gillie man, I don't think you niggas should really fuck with me; The gun off me urgently workin' and twerkin' it perfectly"
After this shot, Gillie Da Kid appeared on a few street DVDs trying to expose how "fake" Weezy and Birdman are over at Cash Money. One of the DVDs that Gillie appeared on was Cheddar DVD Volume 6 along with former Sqad Up members Gudda Gudda, Kidd Kidd, Young Yo, and Supa Blanco – who at the time had all also fallen out with Tune.
Below, you can check out two more street DVDs that Gillie made an appearance on. He tells the camera that he ghostwrote for Birdman and Wayne's Tha Carter album, says Mr. Carter needs to slow up on his cocaine and MDMA usage, explains why Weezy and Baby are both frauds, proves Tunechi borrowed his jewelry for the "Bring It Back" music video, and more.
"I penned a lot of that shit, they had me around there. Nigga… Stunna gave me $200,000 when I signed. They was so in a rush to get a nigga into a deal they didn't do the publishing right there on the spot, they just wanted to get me ink. Soon as they got me ink then they wanted to discuss the publishing. Once they didn't want to give me the money I was asking for (for my publishing) then I knew it was a problem. I had talks and sit-downs with Wayne he didn't even know what publishing was and shit, so I start seeing what was really going on around here. They just wanted me to play the background, pen some shit, gimme a check, pen some more shit and gimme a check. So that's what I did got my money situation right and skated."

"Wayne's a fraud. I never was really with bringing none of this shit to the light, except for when the nigga diss me. He got a record where he say my name and that I don't want it, that he gonna do this and gonna do that. I didn't even feel as though that was real you feel what I'm saying. So I called and reached out to the nigga, the nigga didn't even reached back to me you feel what I'm saying, so I felt disrespected. So I felt like "fuck you nigga", the whole time I was with Cash Money I ain't did nothing but try to help you. Now you wanna take a cheap-shot at a nigga? first I just thought like that was the dumbest thing he could possibly do, knowing I know what I know, like "Why?" what sense does that make?"
Lil Wayne then teased Gillie Da Kid after he was asked about him on set of his "Shooter" video shoot by pretending he doesn't know who he is. "Who? Who?" said Tune with a smirk on his face.
It wasn't long before Gillie responded to Wayne's shots in a song. At the end of 2006, Gillie dropped a freestyle over the "Cannon" instrumental were he dissed Weezy, Birdman, and Slim throughout the track.
It was Mr. Carter's turn now and in 2007, he released his Da Drought 3 mixtape. On two of the songs off the tape called "Live From 504" and "Blooded", he sent more shots at Gillie Da Kid:
"I'm a shark in the water, yep I swim with the big; So I don't have time to deal with Willy Da Squid"

"I advance my flow and they must like that; They like it so much, they say they write that; Barking at the dog, but I don't bite back; I ain't CPR, I ain't bringing they life back"
Later that year, Gillie responded again with a freestyle over Birdman and Lil Wayne's "Stuntin' Like My Daddy" instrumental titled "Frontin' Like My Daddy" by dissing Wayne, Baby, and Slim once again throughout the song.
In 2010 while Wayne was locked up in Rikers Island for gun possession, Gillie shouted him out in a video saying that he doesn't want to see anyone in jail and to hold his head up. I guess this means that their beef has been squashed.