Lil Wayne & Pusha T Beef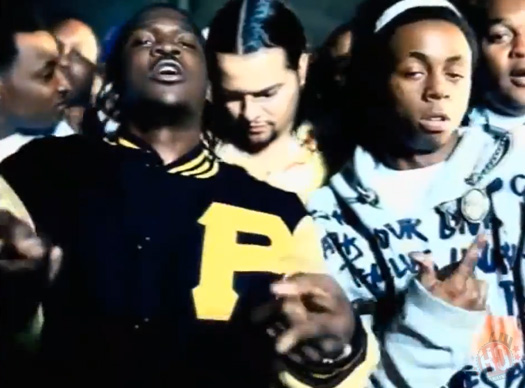 Back in 2006, Lil Wayne appeared on the front cover of Vibe magazine rocking apparel from A Bathing Ape, as well as wearing BAPE clothes in his "Hustler Musik" music video. The Clipse, a hip-hop group formed by two brothers Pusha T and No Malice, were some of the first people to ever wear BAPE clothing along with Pharrell, so after they saw Weezy rocking it, they released a song called "Mr. Me Too" were they sent a shot at him:
"Niggas bite the style from the shoes to the watches"
In an interview with Complex in the same year, Wayne responded to The Clipse after he got asked if he wore A Bathing Ape clothing once he saw they had started the trend:
"I ain't gotta talk about no coke nor no fucking BAPEs. I got my own shoe out nigga, that OG collection Reebok nigga. I got my own jeans out nigga, W. Two Us, I've got my name—the W is gonna be on your bitch ass. Aight?"

"I don't see niggas like that. You talking to the best. Talk to me like you're talking to the best. I don't see no fuckin' Clipse. Come on man. Weezy, man. They had to do a song with us to get hot, B. "What Happened To That Boy?" C'mon B. Don't do that, dog. This is a fucking legend you're talking to right here. 14 years, B. How many years them niggas been around?"

"Who the fuck is Pharrell? Do you really respect him? That nigga wore BAPEs and y'all thought he was weird. I wore it and y'all thought it was hot. C'mon man. C'mon now. The nigga walked around with niggas that looked like you, y'all thought he was crazy. If I did it, y'all gonna think these niggas are killers."
The Clipse did not like Tunechi's response one little bit! Check out what Pusha T said to Virginia's WWHV Hot 102.1 FM radio show after he heard what Wayne said about himself and his brother:
"Wayne, you sort of copying The Clipse right now. I think he made a bad judgment call, maybe hes got an album coming out. This is a small thing to a giant, he's just acting out."

"If anything, I am upset about him using the F word before my name, being as though he likes to sit around and kiss men. If you gonna kiss men, you can't even use them words in conjunction with The Clipse, Pharrell, or any of the family. He's definitely acting out right now. Jay-Z? Do what you gotta do. But involve The Clipse? You don't want to do that. I already don't look at him like a G. He ain't nothing like me."
In the following year, The Clipse carried on their beef with Weezy F Baby by dissing him in a interview for Laced Magazine:
Laced: How do you feel about Lil Wayne saying he is the greatest rapper alive?
No Malice: If you Wobble Dee Wobble Dee, you can't be a legend.
Pusha T: You can't kiss other men, you can't wobble dee-wobble dee, and and you can't bite styles. You can't bite everybody's styles. You can't try to rap like Jay-Z, dress like the Clipse, become a coke dealer after 5 albums, and now dress like Jim Jones. You can't do all that and be a legend. You have to be a trendsetter and he ain't setting any trends.

Laced: Just a few years ago you're doing "What Happen To That Boy" with Baby, now today Lil Wayne isn't saying complimentary things about you. Where do you think this animosity is stemming from?
Pusha T: Yeah, Gillie wrote Baby's part by the way. When "He" was a legend, Gillie wrote Baby's part. I would've thought he'd go to "legend" to get it written. He should've went to "legend" to get it written, but he goes to Gillie Da Kid instead. (laughs)
No Malice: I think he's pretty much trying to save face, because you and I know what it is. The streets said that, it wasn't us that said it. The streets did all of that talking.
Pusha T: The streets said he was biting the Clipse. Clipse never said he was biting us, because it didn't really matter to us. It really don't matter to us, we have real issues. Like Weezy Fucking Baby (shakes head); come on man.
Carrying on in 2008, Pusha T continued to diss Lil Wayne. On a song called "Re-Up Gang Intro" off The Clipse's We Got It For Cheap Volume 3 mixtape, Pusha sent more shots to Mr. Carter with the following lines:
"Sorry, but I don't respect who you applauding; Little nigga flow, but his metaphors boring; Don't make me turn daddy's little girl to orphan; That would mean I'd have to kill Baby like abortion"
A few years pass and nothing is mentioned about the beef until Pusha T name drops Lil Wayne on one of his songs titled "Open Your Eyes". Pusha shouts out "Free Weezy" as Tune was locked up in Rikers Island at the time. He even mentioned in an interview with Complex that he had met Wayne one time in Miami and congratulated him on getting out of prison:
"Ever since Lil Wayne went in to jail, that whole little stint [between me and him] is really dead and over with. I don't have any ill will towards Wayne, Cash Money, or any of them. There was definitely a time period when I felt a certain way [about him], but as of right now I don't. That's just where I once was. I don't even like speaking on it. [On Fear of God] I actually said: 'They had freed Weezy, congratulations.' When I seen Wayne in Miami, I told him, 'Congratulations on getting out of jail.'"
Just when you thought the beef had been squashed, Pusha T dropped a new single in 2012 called "Exodus 23:1". On the track, Pusha sends various shots throughout his verse at Weezy and his Young Money artist Drake:
Shortly after song was released, Tunechi went on Twitter and tweeted "Fuk pusha t and anybody that love em". The following day, Wayne also replied back to Pusha with his own diss song called "Goulish".
Since "Goulish", Pusha T has been continuing to send shots at Lil Wayne by saying the diss track was so weak that he wouldn't even bother replying back to it. Check out what Pusha said in an interview with Funkmaster Flex below:
"It was horrible. It was trash. It wasn't good. I didn't like [the production] either. Let me say this. I didn't like it for that type of record. I didn't feel like, in all honesty, I haven't said anything about it because I didn't think it was good enough to respond to."
Even though Pusha T is still talking about his beef with Weezy F Baby in every interview that he does, Wayne has moved on from it. Mr. Carter told The Associated Press in 2012 that he has no beef with Pusha and that he has moved on from it.
However, Pusha T is still trying to wind Lil Wayne up and get another response from him, because after Wayne released his Dedication 5 mixtape, Pusha has been saying the tape is trash in interviews. He also tweeted that he thinks Weezy fell off:
I think it's safe to say, you really lost it…