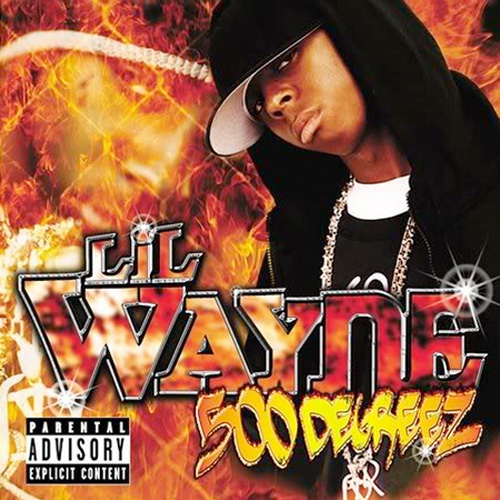 500 Degreez is an official album that was released by Lil Wayne on July 23rd, 2002. The project, which is Weezy's third studio album in his music career, consists of twenty one songs that were all produced by Mannie Fresh.
From the day the album was released to today, 500 Degreez has sold just under one million copies in the U.S. – making it certified gold. The singles that were released from his album are: "Way Of Life" and "Where You At".
You can view the tracklist for Wayne's 500 Degreez album below. Click here to purchase the project from Amazon!
Tracklist:
1. Fly Talkin'
2. Look At Me
3. Way Of Life (Feat Big Tymers & TQ)
4. Big Tigger Live On The Radio
5. Gangsta & Pimps (Feat Birdman)
6. Lovely
7. Gangsta Shit (Feat Petey Pablo)
8. Big Tigger Live On The Radio
9. Bloodline
10. Where You At
11. Worry Me
12. 500 Degreez
13. Go Hard
14. Young'n Blues
15. Believe That (Feat Blaque & Mannie Fresh)
16. Rob Nice Live On The Radio
17. Fuck You (Feat Big Tymers)
18. What Does Life Mean To Me (Feat TQ & Big Tymers)
19. Get That Dough (Feat Birdman, Tateeze & Cristale)
20. Fo' Sheezy
21. Fly Talkin' Go Home