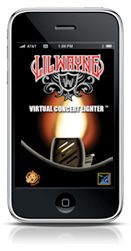 We just found out that Lil Wayne has a brand new iPhone app which can be bought via the iTunes store. It is called "Lil Wayne's Virtual Concert Lighter" and you can check out the official details below:
Grammy Award winning recording artist Lil' Wayne has teamed up with Spark of Blue Software, a new company specializing in bite-size entertainment for smartphones and other internet-connected devices to bring a newly designed Virtual Concert Lighter to the iPhone and iPod touch. The Lil' Wayne Virtual Concert Lighter is available via the Apple App store.

Through a worldwide licensing agreement with Live Nation (NYSE:LYV), the Lil' Wayne Virtual Concert Lighter is the second of a line of licensed tour lighters available at the App Store this summer from Spark of Blue Software. Other artists with available or soon to have their own Virtual Concert Lighters include: KISS, The Who, Poison, Motley Crue, Kings of Leon and Pantera.

Vincent Bitetti, CEO and chief protagonist at Spark of Blue Software commented, "We are very excited to be a small part of the Lil' Wayne phenomenon and offer his dedicated fans such a cool application for under a buck. Thank you, Lil' Wayne!"

Features of the Lil' Wayne Virtual Concert Lighter include:

* New special patent-applied-for "virtual" design
* Free upgrades for life-new features added quarterly for the Virtual Concert Lighter series
* Fully customizable with a choice of 24 full-color high- resolution official Lil' Wayne-selected graphic designs and photos
* Unique, user programmable scrolling text marquee
* Realistic flame sways and moves as you wave your hand
* Dynamic sound effects and fun beats

The Lil' Wayne Virtual Concert Lighter can be purchased in the App Store for only $0.99. For more information about this and other Spark of Blue applications and games for iPhone and iPod touch, please visit www.sparkofblue.com.
Will anyone be purchasing this app for their iPod/iPhone ❓