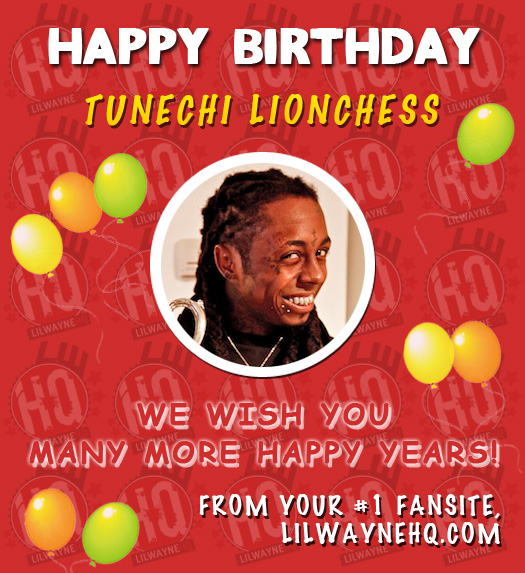 Today is Lil Wayne's 30th birthday! Everyone at LilWayneHQ.com would just like to wish Wayne a Happy Birthday and hope he has a great day.
Weezy F Baby has now been in the music industry for around 20 years and is still on top releasing hot music consistently and making us all laugh with his "I Don't Give A Fuck" attitude that can be seen in videos such as his recent deposition. I'm pretty sure that this is why most of us are fans of Weezy and continue to support him, as well as look up to him for inspiration.
Since his 29th birthday, Tunechi has had another successful year with his TRUKFIT clothing line being sold in stores such as Macy's, linking up with Mountain Dew for their "DEWeezy" campaign, getting a crazy amount of downloads and great feedback on his Dedication 4 mixtape, winning a MTV VMA award for "Best Hip-Hop Video" and a BMI Urban Music award for "Songwriter Of The Year" (both with Drake), and three of his Young Money artists dropping albums (Take Care, Pink Friday: Roman Reloaded and Careless World).
I wonder what accomplishments Lil Wayne will achieve for his next birthday ❓ Oh and I wonder what Birdman will be surprising Weezy with this year…