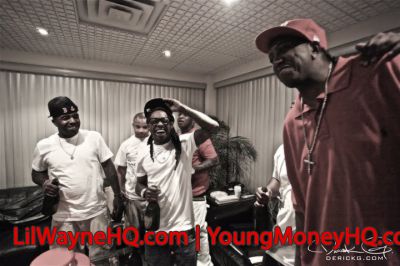 Cash Money Records founders Bryan "Baby" Williams and Ronald "Slim" Williams have reportedly expanded their empire by launching their own independent gasoline and oil company.
According to reports, the duo's business is called Bronald Oil & Gas.
Bronald Oil & Gas are using several locations to develop oil and gas outlets, such as Osage County, Oklahoma, Texas, Louisiana, Florida, and unidentified Central America sites. The Williams brothers have issued a mission statement which lists key initiatives which they believe will be instrumental in developing oil and gas energy production in the 21st century: Forming strategic alliances with other operators to leverage their respective experience and strengths on development. Forming partnerships with service, equipment and technology companies. By partnering with such companies, some of our fields may be designated as "testing ground" for new and developing technologies.
According to the company's website, there is also an international aim to expand the business.
These efforts have initially been focused on Central America, while Bronald intends to also carefully review other international opportunities in such places as Africa. Once again, Bronald intends to leverage its network of existing relationships to identify and secure development opportunities.
Earlier this month, Birdman spoke on Cash Money's ability to connect with younger generations.
"We believe in giving a youngster an opportunity to [express] what their vision is," Baby said in an interview. "To corporate, you're just an artist in a box. But when you f*ck with us, you inherit a family. Corporate will never be able to f*ck with us, because we're in touch with the young world…I want to do more in the business than anyone ever did. I feel like people died for our success…Nobody else deserves this."
He also spoke on branching out Cash Money's image by linking with artists like Kevin Rudolph.
"We've been trying to expand into rock for a long time," Baby said in an interview. "It just never cracked. We didn't have the system to pull it off. But with Kevin, Republic gave him a great window to do what he wanted to do. The new music is hot. We are going into all types of music from Kevin and Drake to Jay Sean. I believe in the music."
Spotted at SOHH
And in other news, the song we posted yesterday, "Inkredible", has been confirmed to be on Trae's upcoming album, Tha Truth, and will be the second single.
Shouts to DJSHAD