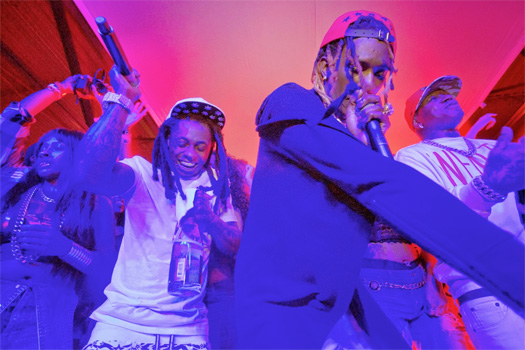 3 years ago, Jimmy Carlton Winfrey aka Peewee Roscoe was found guilty of shooting at Lil Wayne's tour bus in Atlanta, Georgia and was served with a 20-year sentence (10 years in prison and 10 years on probation).
Now the Cobb County State Court is about to reopen the case after new evidence has surfaced, which could expose Birdman and Young Thug for having something to do with trying to kill Wayne. 12 minutes before the shooting took place, Thug had called Winfrey a total of 8 times and while Winfrey was in jail, Baby had called him to to say the following:
"Time for you to come out here and get this money nephew. You did everything you could do boss… it's a eye-opener bruh, ya heard me. Strictly business, man."
Before we find out in the next few weeks, you can watch footage detailing this latest update and hear the audio of Birdman's phone call, courtesy of WSB-TV, after the jump below. Do you think Baby and Thugger will be charged from this new evidence?