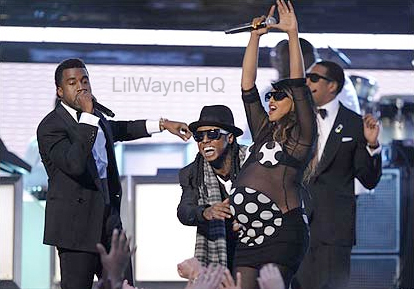 A then-pregnant M.I.A. got through her performance on Grammy night with some help from Weezy F Baby.
The Sri Lankan rapper's son with fiancé Benjamin Brewer was due Feb. 8, the same day she performed "Swagga Like Us" at the 51st Annual Grammy Awards with Lil Wayne, Jay-Z, T.I., and Kanye West. In a new interview, M.I.A. reveals that Lil Wayne was praying for her.
"Lil Wayne was like, 'So, when are you due?' And I was like, 'Today!'" she tells Los Angeles Times Magazine. "He was like, 'Oh my God!' and he was saying prayers for me every day, which was really cool."
Wayne's prayers were answered because M.I.A. didn't end up going into labor at the Grammys. Instead, she gave birth to her first child, a healthy boy named Ikhyd, a few days later in Los Angeles.
Shout outs to Rap-Up