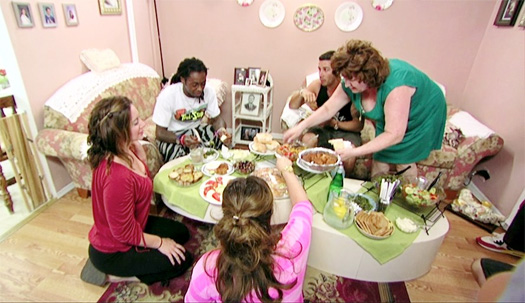 Lil Wayne and Jenna Marbles were the celebrity guests that made an appearance on the premiere episode of Vinny Guadagnino's "The Show With Vinny", which aired last week.
While DJ Scoob Doo and T@ chilled in the kitchen, Vinny (who was rocking TRUKFIT) introduced Tunechi to his family and told him that he is his idol. Wayne also explained to Guadagnino about how he came up with his clothing line name, why he started skateboarding, showed off his most memorable tattoo (the "In Memory Of Rabbit: It's Up To Me" one), and speaks on his shoe deal with SUPRA.
During dinner, Mr. Carter mentions that his fiance Dhea is Italian and shares jokes with Uncle Nino (who was also wearing a TRUKFIT hat). Before Weezy F Baby and Vinny left to go skate at a park in Staten Island, Tune made a visit to the restroom while Mother Guadagnino made him some food to take away with him.
You can watch the full episode after the jump below. Unfortunately, the clip is only available to people who live in the United States of America. So if you can't watch it, I'm sorry, but I will keep my eye open for a video that will play in every country and update this post! Added a YouTube version for the people who don't live in the United States of America, courtesy of Oscar!