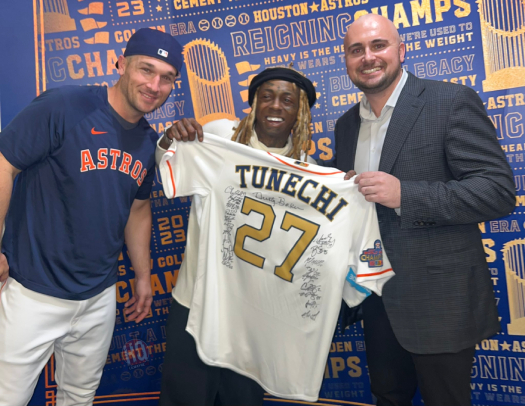 On May 2nd, Lil Wayne paid a visit to the Minute Maid Park in Houston, Texas to meet the Houston Astros baseball team while he was in town on his "Welcome To Tha Carter Tour".
During his stop, Weezy was seen chopping it up with Reggie "Mr. October" Jackson and Dusty Baker, receiving a signed jersey that he says he will hang on his wall, and participating in an interview that was captured by FOX 26 Sports anchor Mark Berman.
"Was unbelievable. I got to meet Mr. October, Reggie Jackson. I got to meet Dusty Baker. That made my day, meant the world. They showed me way too much love. Seems like they're big fans. I'm a fan as well."
The Astros also gifted Tunechi with a custom World Series trophy pendant. In an interview, Jose Altuve said: "I am a big fan of him. I know a lot of his songs… he gave me a hug, which I was really surprised that he recognized me. I was really happy". You can check out lots of footage and photos from Tune's visit to Minute Maid Park below!