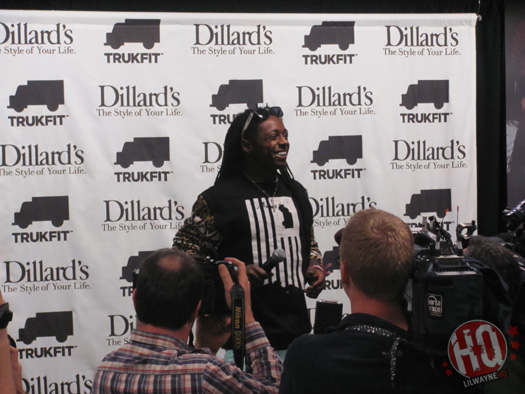 On November 30th, Lil Wayne made an in-store appearance at Dillard's Inc. store at Jefferson Mall in Louisville, Kentucky to promote his TRUKFIT clothing line and to personally thank his fans that have been purchasing his apparel. Wayne was originally supposed to make an appearance at the store on October 27th, but he had to reschedule after suffering from two seizures in the air.
Two people who are regular visitors of LilWayneHQ.com got the chance to meet Weezy F Baby at this event after spending $500 on TRUKFIT clothes – Jimmy Mays and Summer Wortham. They both took some pictures with Tune and also received a signed pair of TRUKFIT Beats By Dre headphones from him to say a thank you for supporting his clothing brand.
After the Dillard's event, Jimmy attended a dinner with Lil Wayne's manager and best friend Cortez Bryant at Maker's Mark. During the meal, he mentioned to Cortez about this site and asked him if he and Weezy know about it. Tez said they do know about it and left me a message saying: "Luv! Keep doing your thing" – so I'm extremely delighted about that!
You can view plenty more pics of Tunechi at the Dillard's store after the jump below, courtesy of Jimmy and Summer.