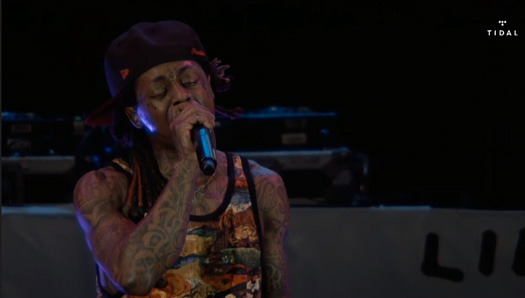 The 1st annual "Lil Weezyana Fest" took place tonight at Champions Square's Bold Sphere Music in Lil Wayne's hometown New Orleans, Louisiana. If you could not be in attendance, Jay Z's streaming service TIDAL let anyone with an account watch the full show live as it happened.
Personally this was one of the greatest Tunechi concerts I have ever watched and my highlight was seeing a Sqad Up reunion on stage with Tune rapping his verses from the Sqad Up tapes word for word. He also mentioned throughout the show that he hopes to do a "Lil Weezyana Fest" every single year like how Drake does his "OVO Fest".
Weezy brought plenty of special guests out tonight including: Drake, Ms. Tee, Big Freedia, DJ Jubilee, Cory Gunz, 5th Ward Weebie, Jake Troth, Shanell, August Alsina, Dizzy, Kidd Kidd, Gudda Gudda, Fee Banks, Curren$y, Mannie Fresh, Mack Maine, Juvenile, Turk, Hood, Euro, Master P and No Limit, and Jae Millz.
It was good to see Wayne take it back and perform songs off his older projects too, such as "Georgia Bush", "Dedication 2 (Bang Bang)", "I Miss My Dawgs", "Kush", "We Ready", "Guess Who's Back?", "Best Of Me", "Bling Bling", "Project Bitch", and plenty more. The biggest disappointment was when TIDAL had to cut off viewers from watching Drizzy's set as he is under contract with Apple.
I have listed every song that Mr. Carter performed live at his 2015 "Lil Weezyana Fest" after the jump below. What was your favorite part or parts of the concert? Let me know in the comments section!