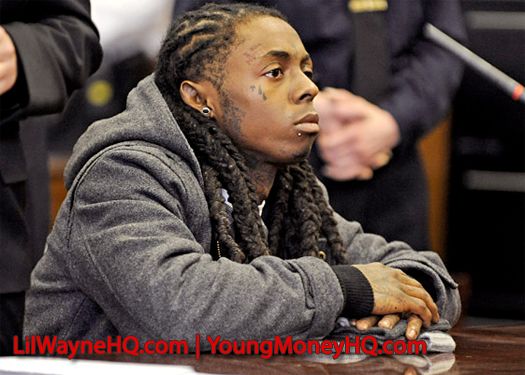 Rapper Lil Wayne may not have to spend any time behind bars in Arizona on drug and weapon charges once he gets out of jail in New York, after entering a plea agreement with prosecutors in Yuma County Superior Court Friday morning.

During a short change of plea hearing, in which he appeared via video feed from a New York jail, Lil Wayne, whose real name is Dwayne Carter, pleaded guilty to one count of possession of a dangerous drug. The charge stems from a Jan. 22, 2008, incident in which the rapper's tour bus was stopped at a U.S. Border Patrol checkpoint near Dateland, 78 miles east of Yuma, where authorities said they found cocaine, Ecstasy and a handgun on his tour bus.

A search of the bus by Drug Enforcement Administration agents yielded nearly four ounces of marijuana, just over an ounce of cocaine, 41 grams of Ecstasy and miscellaneous drug paraphernalia. DEA agents then arrested Carter.

Officials also found a .40-caliber pistol registered to Carter, who has a concealed weapons permit in Florida.

The Grammy Award-winning rapper is currently serving an eight-month jail term in New York after pleading guilty last October to attempted criminal possession of a weapon. He admitted to having a loaded .40-caliber semiautomatic gun on his tour bus. He began serving his sentence in March.

Carter, who has been one of music's most profitable figures in recent years, could receive 36 months of probation for the Yuma charge, which is scheduled to begin once his New York sentence is over, according to the terms of the plea agreement.

In exchange for Carter's guilty plea, charges of possession of a narcotic drug for sale, misconduct involving weapons and possession of drug paraphernalia against him were dismissed.

Superior Court Judge Mark Wayne Reeves, who is presiding over the case, will sentence Carter at 8:15 a.m. on June 30. – YumaSun
This is great news ❗ If Tunechi was found guilty, he could of been looking at another 8 or 10 years behind bars.