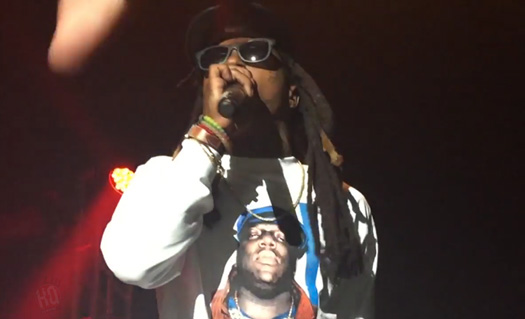 In this post, you can watch a 20-minute video of Lil Wayne's live performance on May 28th in Phoenix, Arizona at the Comerica Theatre. We have previously saw a short recap, as well as a clip of Wayne announcing that he is currently working on 2 new albums at the show, but this one is front row footage and it shows every song he performed during his set.
Weezy performed "John", "I'm Goin' In", "A Milli", "Bitches Love Me", "Go DJ", "I'm Me", "Lollipop", "Every Girl" with Mack Maine, "Blunt Blowin'", "6 Foot, 7 Foot", "Rollin'", "Jumpman", "Wasted", "Pussy, Money, Weed", "Kush", "Ride For My Niggas", "Coco", "Dick Pleaser" with Jae Millz, "Pop That", "Karate Chop", "The Motto", "Steady Mobbin'", "Gotta Lotta", and "No Worries" live. He also started "Fuck the Birdman" and "Fuck Cash Money" chants.
You can check out the footage after the jump below. Head to the 6:55 mark to go straight to Tunechi coming out on stage. Shout outs to Arun for the heads up!