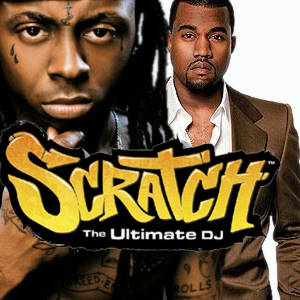 With the forthcoming release of Scratch: The Ultimate DJ game set to take-on competition from Jay-Z's DJ Hero and Timbaland's Beaterator, SOHH spoke with Quincy "QD3" Jones III about his new venture and snagging along artists like Lil Wayne and Kanye West.
According to QD3, the game will feature a variety of old-school and new records for players to kick back with.
"We've had complete freedom to make this game true to what people would probably want it to be," Jones explained. "We've tried to represent all the different [groups] from old-school hip-hop break beats to some of the newest hits like Kanye West's 'Flashing Lights.' Lil Wayne and so on and so on, Tech N9ne. I think we represented all of the different regions of hip-hop. So it's a little something in there for everybody. Little R&B, Salt-N-Pepa, Whodini to Lil Wayne to Kanye West, it's pretty full in that sense."
The game will also feature tracks from various regional artists.
Music includes Gorillaz's "Feel Good Inc," RUN DMC's "Peter Piper," Nelly's "Hot In Herre," Deltron's "Mastermind," Murs' "Looking Fly," Kid Koala's "Skanky Panky," Pete Rock & C.L. Smooth's "They Reminisce," The Knux's "Life in a Cage," and more.
Reports of the new project's creation landed online last fall.
7 Studios made a move toward being the first studio to renew the turntable-based rhythm game, announcing partnerships with DJ equipment manufacturer Numark and hip-hop producer Quincy Jones III, along with Genius Products and Genco Interactive. Dubbed, Scratch: The Ultimate DJ, the game will be played using a turntable controller, the "Scratch Deck," designed by Numark, which promises to "allow players to re-imagine songs on the fly and add their own creativity" (no word on an MC counterpart — or b-boy, for that matter). 7 Studios joins Activision and presumably any other company with half a brain as it vies for precious mindshare of the next potential gaming phenomenon.