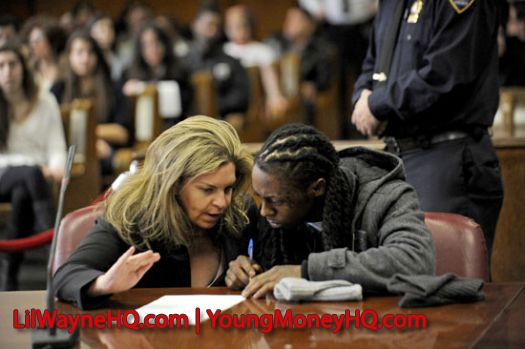 Eleven days ago, we posted an article saying that Lil Wayne plead guilty to drug charges in Arizona via a video feed and now it looks like Weezy can relax a bit more. Today, an Arizona court sentenced Tunechi to three years of probation which means he will not face any more time behind bars once he gets released from Rikers Island later this year. You can read the full article below:
Wayne, whose real name is Dwayne Michael Carter Jr., was spared time in an Arizona jail under a plea deal stemming from his January 2008 arrest at a U.S. Border Patrol checkpoint in the state.

Under the deal, the 30 27-year-old Grammy winner pleaded guilty to one count of possession of a dangerous drug. Three other drug and weapons charges were dismissed.

Wayne appeared in court via a video hookup from New York, where he has been jailed since March after pleading guilty to attempted criminal possession of a weapon.

James Tilson, Carter's Arizona attorney, said he was pleased with the court's action.

"We're quite glad that we were able to wrap everything up," Tilson told Reuters. "It's a favorable plea agreement that will allow Mr. Carter to pursue his career."

Carter will begin his Arizona probation following his New York sentence, Tilson said.

The rapper's tour bus, carrying 11 others, was stopped and searched by Border Patrol authorities after they said they were alerted by a drug-sniffing dog. Agents found nearly four ounces of marijuana, an ounce of cocaine, 41 grams of Ecstasy and a .40-caliber pistol registered to Carter.
This is great news and should let Wayne get back on with his life. Unfortunately him receiving three years of probation may prevent him from leaving the country, which means no international tour 🙁