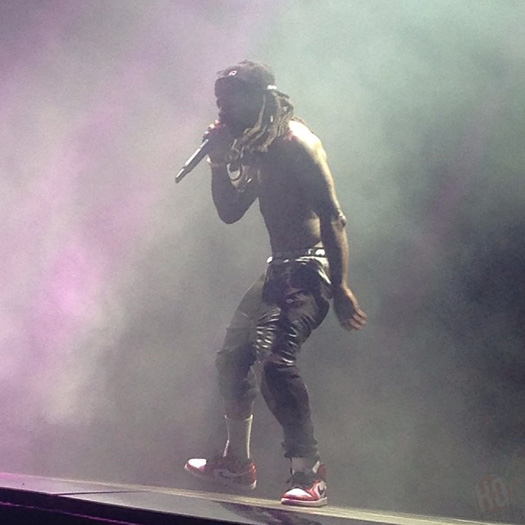 On August 10th, the "Drake vs. Lil Wayne" tour made a stop at the First Midwest Bank Amphitheatre in Tinley Park, Illinois. A guy in attendance managed to capture most of the full show, as well as the "Street Fighter" graphics and the app getting to work at the start of the concert to see who would come out first, which you can watch in a video below that lasts for around 57-minutes.
Tune can be seen performing "Blunt Blowin'", "John", "Steady Mobbin'", "Mr. Carter", "Ride For My Niggas", "Go DJ", "Pop Bottles", "Hustler Musik", "Leather So Soft", "Drop The World", "I'm Goin' In", "How To Love", "Single", "Mrs. Officer", "Every Girl", "Lollipop", "Bitches Love Me", "Bandz A Make Her Dance", "Make It Rain", "Duffle Bag Boy", "Loyal", "6 Foot, 7 Foot", and "Rich As Fuck".
Drizzy performed "Draft Day", "We Made It", "The Language", "Crew Love", "Show Me A Good Time", "2 On", "Over", "Headlines", "Pop That", "0 To 100", "Fuckin' Problems", "Versace", "Find Your Love", "Marvin's Room", "Hold On, We're Going Home", "No Lie", "I'm On One", "No New Friends", and "Us".
Also during the clip, Weezy F Baby and Drake can be seen dissing each other in a hilarious friendly competitive way. Some examples are Drizzy getting upset that Weezy cut off his verse on "I'm Goin' In", so he did the same and cut off Wayne's verse on "Pop Dat". As well as that, we can also see Drake taking a pull of Tunechi's blunt, Wayne singing "Hold On, We're Going Home", and mocking Drizzy for being on a stripper pole while flying over the crowd.
The winner of the "battle" in Illinois was Drizzy Drake, so that brings the score to 2-1 to Mr. Carter. The two Young Money rappers are next performing on their tour tonight at the Saratoga Performing Arts Center in Saratoga Springs, New York!