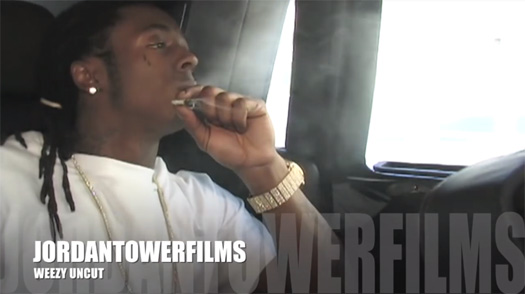 Today for #ThrowbackThursday, you can watch a raw, uncut and uncensored 1 hour and 30 minute movie on Lil Wayne that was recently released in full by Jordan Tower. As well as Weezy, there are appearances in the film by Cortez Bryant, Marley G, Fee Banks, Mr. G, and Nicki Minaj.
During the movie, we can see footage of Weezy doing a couple of interviews talking about how he first met Birdman and Slim to sign with Cash Money records, his discography, recording process, business ventures, what an average day is like for him, working, performing "Hello Brooklyn" live with JAY Z in New York, acting, why he hates NY, if he would ever do a reality TV show, and so much more.
In the film that was shot before Tha Carter III came out, we can also watch behind the scenes footage from Tunechi's "Money On My Mind" video shoot in Miami plus Tune recording "Higher Than A Kite" and "Young Money Ballaz" for Nicki's Sucka Free mixtape. So grab some popcorn, sit back and enjoy all of this classic footage that has been merged together in one for you!