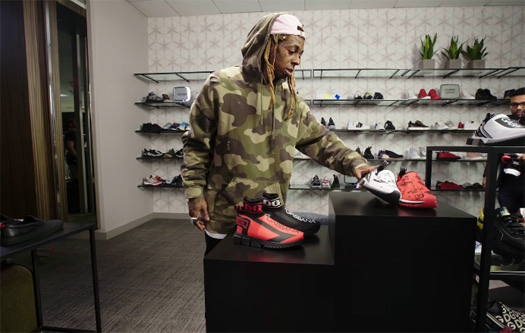 Lil Wayne, who was rocking a pair of Prada Camouflage Combat Boots, recently went "Sneaker Shopping" with Joe La Puma at Neiman Marcus in Bal Harbour, Florida for the Season 10 finale of their series.
During their trip, Wayne recalled drawing the Nike "swoosh" and the Adidas "three stripes" on folders back when he was in school, what he wore in Juvenile's "I Got That Fire" music video back in 1999, and how his deal with SUPRA in 2012 got messed up because they didn't want to do what he envisioned (they wanted something to rival Kanye West's Yeezy shoe).
Before spending $7773.55 on sneakers, Weezy spoke on his favorite sneakers to skate in, Kendrick Lamar remembering him rocking the Reebok Workout Low shoes when he signed his Reebok deal, deciding what to wear for court-side NBA games, Drake giving him exclusive Jordans, his stylist Marisa Flores laying out between 100-200 pairs of shoes each night for his shows, TRUKFIT, and more.
You can check all of this go down in the video after the jump below. Tunechi also revealed he has not been to a shopping mall in over 15 years! Did you like the Dior sandals, Balenciaga trainers, Versace slippers, and Dolce & Gabbana sneakers that Tune picked out to buy?