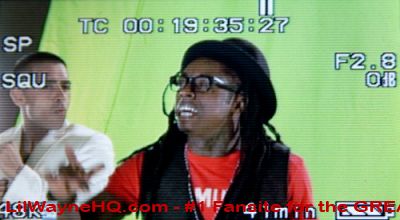 Lil Wayne's request to stop the release of QD3 Entertainment documentary The Carter has been denied once again by a state court judge late last week.
Despite claims of "private and sensitive" footage, Weezy's doc will land in stores later this year.
California Superior Court Judge Michael Mink denied Lil Wayne's request to prevent the release of cited material in an upcoming documentary about the rapper. The documentary was the subject of deliberations on Friday (June 12). The film will be released by Digerati. In addition, Mink awarded sanctions against Wayne and his attorneys in the amount of $5,000, which must be paid within a 30-day period. Wayne must appear for deposition at Digerati's attorney's offices by July 31, during which time he will explain what exactly he finds harmful in the documentary pertaining to his current criminal cases.
Weezy's request was previously denied earlier this year by Mink.
Los Angeles Superior Court Judge Michael S. Mink denied Wayne's request for a preliminary injunction this week. QD3 executive Quincy Jones III said the ruling frees his company to seek distribution of the film. "We're very pleased with the court's decision," Jones said. "We made a great film, which was incredibly well received at Sundance, and showcases Lil Wayne's extraordinary talent."