A controversial new documentary about superstar rapper Lil Wayne has shot to the top of the iTunes movie charts.
QD3 Entertainment's film The Carter is currently the No. 1 selling documentary on iTunes in the U.S.
In addition to landing the top slot on Apple's iTunes U.S.' music store, The Carter is also in the Top 10 on the Canadian iTunes music store alongside such blockbusters as Bruno and GI Joe.
"Having our Lil Wayne The Carter documentary place in the Top 10 on both U.S. and Canadian iTunes store within the first 48 hours, competing neck and neck with multi-million dollar studio films such as Bruno and GI Joe during Christmas season is quite a feat for a self distributed indie doc and beyond our expectations," QD3 Entertainment CEO Quincy Jones III told AllHipHop.com. "We are very excited about continuing to innovate within the digital space."
Via AllHipHop, and don't forget that if you have ordered your copy from TheCarterDoc.com, your order will be shipped on the first week of December.
Also in other news, Lil Wayne has been credited as the top 7th songwriter of this quarter via Billboard: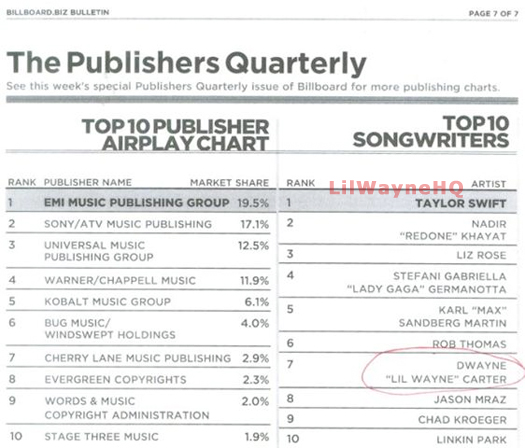 Props Fullblaze4