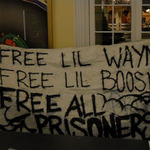 Fans who protested the jail sentences of Lil Wayne and Lil Boosie by illegally spray painting property were arrested in New Orleans hometown on Monday (November 30) night.
According to reports, six individuals were arrested by local police.
Off-duty police officers saw the suspects spray-painting "Free Lil Wayne" on the side of a building in the 900 block of Conti Street around 9 p.m. and notified the NOPD, according to spokesman Janssen Valencia. The men also placed a banner across Royal and Canal streets calling on authorities to release Torrence "Lil Boosie" Hatch, a Baton Rouge rapper who pleaded guilty in September to a marijuana possession charge and is currently in prison. The group also placed police barricades and metal garbage cans in the 100 block of Burgundy to halt traffic. When officers arrived, the suspects fled but were apprehended nearby, Valencia said. The six subjects were charged with disturbing the peace, resisting arrest by flight and criminal damage to property.
Props SOHH, and hit the jump to watch the official behind the scenes for Juelz Santana's "Home Run" featuring Lil Wayne.
httpv://www.youtube.com/watch?v=Tufbn6hIMlg
Part 2 coming soon.