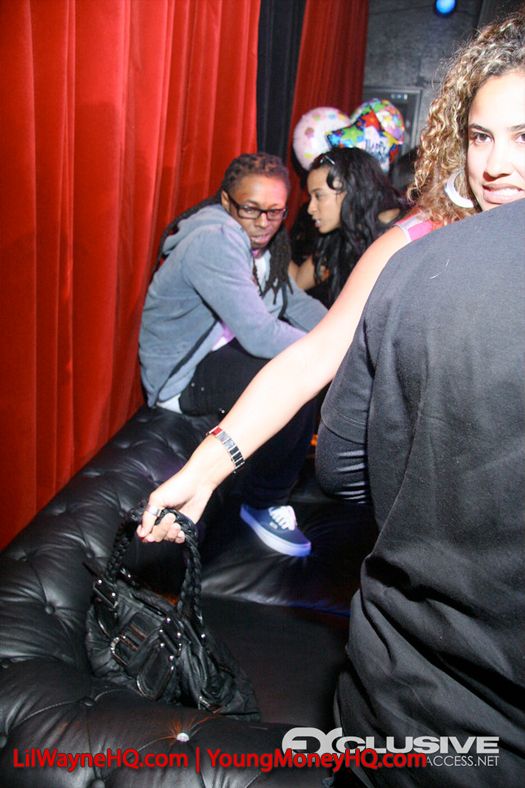 Lil Wayne may have an impending jail sentence, but in recent days some news about the MC has set the Internet chatter ablaze: Does he have another baby on the way?

Now, as she preps her as-yet-untitled debut album, Shanell said the rumors about whether she's dating Lil Wayne have run rampant but have no basis in reality.

"Basically it came from a corny rumor that escalated," Shanell told MTV News. "First I was dating him, then I was his girlfriend, then we were getting married, then we were settling down and now I'm pregnant. It's so foolish we've haven't paid it any attention."

So what of the widely circulated photo where the two are hugging?

"We're taking a picture," she said.

The singer-songwriter says that the dating rumors were fine, but the pregnancy chatter was not.

"All the rest of the rumors were kinda funny except that one," she admitted. "When my mother called me like, 'Um?,' [I was] like, 'No! Are you serious?' I don't care about the rumors, but I just want people to know that I'm not pregnant. I've got an album coming out, I'm a dancer, I'm in shape and children are not anywhere in my future."

Lil Wayne agrees.

"Let me clear up this rumor, man: Shanell is not pregnant from me," Wayne said in a serious tone on a Ustream video last weekend. "Shanell isn't even pregnant! Period. Clear that up right now, man. Everybody talking about Shanell pregnant by … No, she not even pregnant. Period."

Lil Wayne may not be the father this go round, but he saw the birth of three sons — from an unnamed Ohio native, singer Nivea Nash and actress Lauren London — between 2008 and 2009 alone. His first child's name is Reginae Carter, from his marriage to Toya Carter.
Via MTV