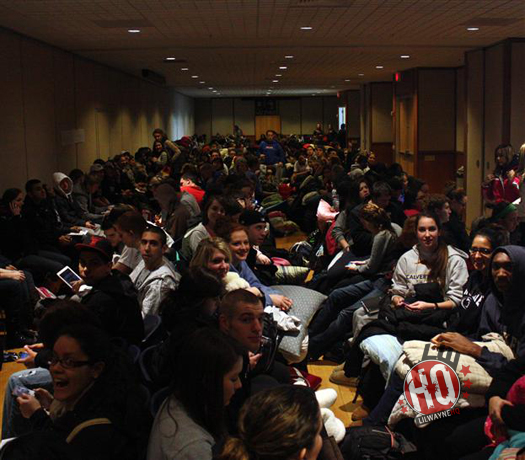 Penn State students camping out overnight for tickets to Lil Wayne's I Am Still Music Tour stop at The Bryce Jordan Arena in State College, PA on March 30th
Karen just sent over this image and news that Lil Wayne is selling out arenas on his new "I Am Still Music" tour quickly! Like we previously reported, the tickets for Tunechi's US tour were available for purchase today (February 4), and already Weezy has sold out at the Bryce Jordan Arena in University Park, Pennsylvania and the Nassau Coliseum in Long Island, New York. Wayne sold 10,000 tickets within an hour of going on sale at the Bryce Jordan Arena, and over 11,000 tickets in 30 minutes of going on sale at the Nassau Coliseum. You can view the tour dates, locations and arenas for Tune's "I Am Still Music" tour here, and you can purchase tickets for the shows from TicketMaster.
Also, I know people keep emailing and asking me about why some of the tour dates are not available on the TicketMaster site yet. All I can say is that they are still getting worked out and will be availabe soon!