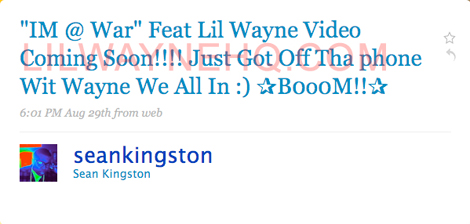 Even though Lil Wayne wasn't featured on the iTunes version of Sean Kingston's "I'm At War", it still looks like he will be featured on the album version.
Sean Kingston posted on Twitter that he has just got off the phone with Weezy and they are all set to shoot the music video for the hit song "I'm At War".
We also have upcoming Lil Wayne music videos for "Revolver", "Girl You Know", "I'm Goin' In", "Money To Blow", "Forever" and "Come On" which Lil Wayne will re-do a verse for.
Also, check out this article we posted on YoungMoneyHQ earlier in case you missed it: Young Money have the top 3 records on Billboard. This is an enormous achievement for them, don't you agree ❓
Shouts to EastsideBoi89 for letting me know about this music video and are y'all excited for this video ❓ Leave a comment below, letting us know if you are 🙂